Does your flugelhorn mouthpiece wobble? Do you have problems with intonation, slotting or sound with your flugel?
If you've ever played a flugelhorn for more than five minutes you've undoubtedly run into a problem involving shanks and receivers. No mouthpiece seems to play or fit correctly and you keep hearing about a "taper" that isn't a taper — what is going on?
Don't worry, help is here to bring you your beloved flugelhorn sound!
Types of Flugelhorn Mouthpiece Shanks
Though there are many manufacturers of flugelhorns today, there are only three commonly used flugelhorn shanks and one more that is very rare.
1) The Couesnon Flugelhorn Mouthpiece Shank (French Shank)
The first shank is referred to commonly as the "French Shank" or the "Couesnon Shank." As you may have guessed, it was used originally on Couesnon flugelhorns. This shank is not a taper, as is used on other trumpet, cornet, or flugelhorn mouthpieces. The bottom inch or so of the mouthpiece shank is cylindrical. At that point the shank flairs slightly into a shoulder which secures the mouthpiece into the receiver. Some folks call this type of flugelhorn mouthpiece shank a French Taper or a Couesnon Taper, which is a misnomer since there is no taper to the shank.
French Shank mouthpieces will not fit properly in other types of flugelhorn receivers.
2) The Standard Flugelhorn Mouthpiece Shank
The second kind of flugelhorn mouthpiece shank is referred to as the "Standard Shank" or "Large Morse Taper." Unlike the French Shank, the Standard Shank is a traditional taper similar to what you find on trumpets, cornets, and other brass instruments. Many flugelhorns are manufactured today, including Yamaha flugelhorns, that accept this taper.
Standard shank mouthpieces generally do not fit in a French Shank or the smaller Bach Shank receiver.
3) The Bach Flugelhorn Mouthpiece Shank
The third flugelhorn mouthpiece shank that is commonly used is the "Bach Shank" or "Small Morse Taper." It is also a taper, but at a smaller size than the Standard Shank flugelhorn mouthpiece. It has been used on Bach flugelhorns since they were first produced.
4) Trumpet Shanked Flugelhorns
The last shank that very few flugelhorns accept is actually the same size that is used on trumpet mouthpieces. This setup is used on some European flugelhorns, but it is exceedingly rare.
"What Flugelhorn Mouthpiece Do I Need?"
When you are considering a flugelhorn or a flugelhorn mouthpiece, always check and double check that the parts you will be using will work together. Having an incompatible setup of mouthpiece and receiver will result mouthpieces not fitting properly and poor intonation and playability.
The "American Shank" Flugelhorn Mouthpiece
Depending on where you live and who you talk to, you may run across mentions of an American Shank flugelhorn. In our research, we have found that manufacturers and players can be referring either to #2 or #3 above when referring to "American Shanks." Bach is one of the most prominent U.S. manufacturers and so some people refer to the Bach Shank as the American Shank. Nowadays, more U.S. manufacturers use the Standard Shank size so that has caused some folks to label the larger Standard Shank as the "American Shank." To avoid confusion, it would be best to use Standard and Bach, or Large and Small Taper.
The Double Standard
Unfortunately, some people refer to either the Large or Small Shanks as "Standard." This is because many years ago, the Bach Shank was considered the standard size. Over the last 40-50 years, however, the Large Shank has become much more popular while the Bach Shank waned. There has been a resurgence in the Bach Shank in recent years, though the Large taper size is still much more common.
Looking To Improve Your Flugelhorn or Flugelhorn Mouthpiece?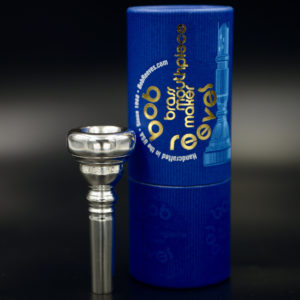 Bob Reeves Brass has a complete line of flugelhorn mouthpieces for all shank sizes of you are looking for a mouthpiece.
You might also consider getting a valve alignment for your flugelhorn to improve sound, intonation, and projection.
Flugelhorns Manufacturers Grouped by Mouthpiece Shank Type
Couesnon (No Taper): French Besson, Couesnon, Flip Oakes, Kanstul, Miraphone
Bach (Small Morse Taper): B & S, Bach, R, S, Berkeley, Besson, Courtois, Eclipse, F. E. Olds, Holton, LeBlanc, James , Trevor, Kanstul, Miraphone , Phaeton, Reynolds, Schilke, Selmer, Shiller, Taylor, Van Laar
Standard (Large Morse Taper): Adams, Benge, Blessing, Callet, Conn, Eclipse, Gerd Dowids, Getzen, Josef Lidl,  Kanstul, King, Lawler, Miraphone , Orlando Wind Instruments, Stomvi, Thomas Inderbinen ,  Weril, Yamaha,
Trumpet Mouthpiece Taper: Gerd Dowids