Bill Reichenbach Trombone Interview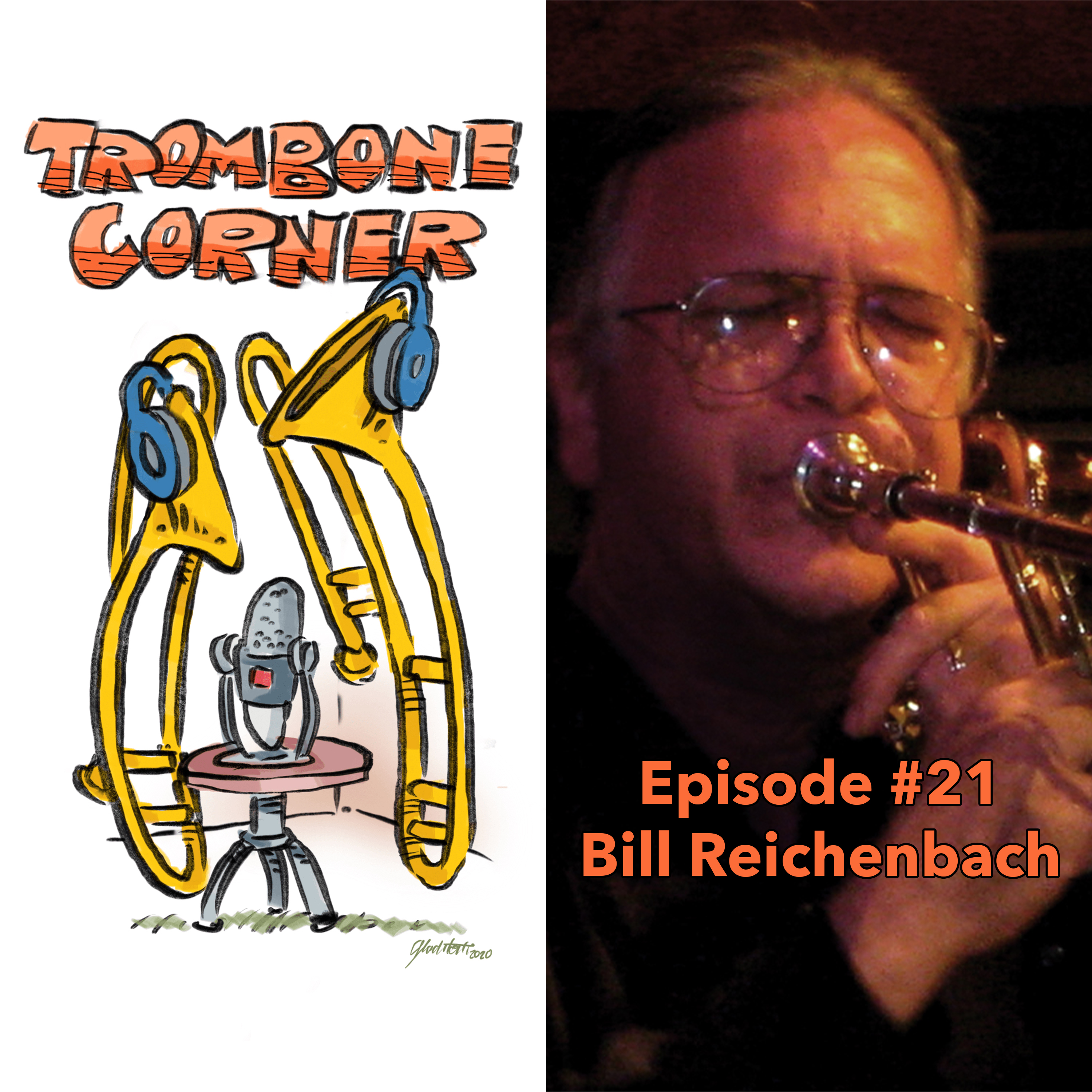 Welcome to the show notes for Episode #21 of the Trombone Corner podcast. This episode features trombonist, Bill Reichenbach.
Listen to or download the episode below:
Podcast: Play in new window | Download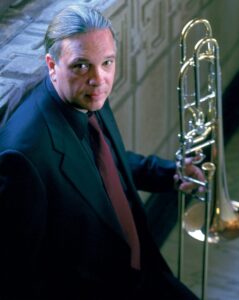 Bill Reichenbach grew up in the Washington, D.C. suburb of Takoma Park, Maryland where he studied trombone with Gene Brusiloff and Robert Isele. After high school, Bill was accepted to the Eastman School of Music in Rochester, New York. There, he studied with the great Emory Remington. While still a student, Bill began his recording career by playing lead trombone on several Chuck Mangione albums, a couple of albums with the Eastman Wind Ensemble (one on bass trombone and another one on euphonium), and the first recording of Leonard Bernstein's "Mass" (on bass trombone) which was composed for the opening of the Kennedy Center in Washington, D.C. 
After graduation, Bill toured for while with the Buddy Rich Big Band on bass trombone. During this time, the band recorded an album called "Stick It" which featured Bill on an arrangement of Jobim's "Wave". 
In 1975, Bill moved to L.A. where he started playing the jazz tenor trombone chair on Toshiko Akiyoshi's big band. He made quite a few albums with the band over the next several years and was a featured soloist on all of them. At the same time, Bill was also the solo jazz trombone player on Don Menza's big band and he recorded solos on an album with the band. Don put together a sextet out of the big band and featured Bill on tenor and bass trombone on a recording with that band. 
As a studio player, Bill has played on about 2000 records, 1000 motion pictures, and countless TV shows and jingles. 
Bill's jazz quartet album "Special Edition" (Nothing But Bills Records) featuring Peter Erskine on drums, Jimmy Johnson on bass, and Biff Hannon on piano, reached number 10 on the national jazz radio play lists. 
New York trombonist Mike Davis and Bill have done 4 albums together – "Bonetown", "Brass Nation", "New Brass" and most recently, "Absolute Trombone II" and have played concerts all over the United States, Canada, and Europe. 
Bill has been a featured artist and clinician at several International Trombone Festivals including Utrecht (Holland), Nashville, Urbana (Illinois), North Texas State University, and most recently Las Vegas (2007), and Salt Lake City (2023). 
Some of the artists Bill has recorded with: 
Michael Buble, Harry Connick, Jr., The Jonas Brothers, Christine Aguilera, Seal, Mya, Quincy Jones, Barbra Streisand, Michael Jackson, Elton John, Toto, The Yellowjackets, Seawind, Frank Sinatra, Tony Bennett, David Foster, Aretha Franklin, Al Jarreau, Earth Wind and Fire, Dr. John, Arrowsmith, and Ray Charles.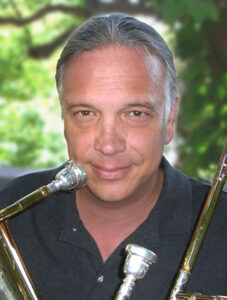 Some of the motion pictures which Bill has played on are: 
"Indiana Jones 5" 
"Wolverine"  
"Night in the Museum 2" 
"Indiana Jones and the Curse of the Crystal Skull" 
"Up" 
"Sex in the City" 
"Hancock" 
"Ratatouille" 
"Spiderman 3" 
"Hairspray"
"Dreamgirls" 
"Transformers" 
"American Gangster" "Wall-E" 
"I Am Legend" 
"Dreamcatcher" 
"X-men II" 
"Identity" 
"The Core" 
"Daredevil" 
"Red Dragon 
"Chicago" 
"Men in Black II" 
"XXX" 
"Training Day" 
"Spiderman" 
"Collateral Damage" "Black Hawk Down" "Planet of the Apes" "Monsters, Inc" 
"Don't Say a Word" "Zoolander" 
"Princess Diaries" 
"American Pie 2" 
"Legally Blond" 
"Scary Movie 2" 
"The Mummy Returns" "Evolution" 
"What Women Want" "Proof of Life" 
"X-men"  
"Space Cowboys" 
"Remember the Titans"  "Meet the Parents" 
"Family Man"  
"Charlie's Angels" 
"The Matrix" 
"The General's Daughter" "The Green Mile" 
"South Park" 
"Sixth Sense' 
"Deep Blue Sea" 
"Toy Story 2" 
"Magnolia" 
"Stuart Little" 
"Galaxy Quest'
"Reindeer Games" 
"U-571" 
"Godzilla" 
"Contact" 
"Conspiracy Theory" 
"The Jackal" 
"Alien Resurrection" 
"Men in Black" 
"Air Force One" 
"Batman and Robin" 
"Forrest Gump" 
"Independence Day" 
"Mars Attacks" 
"Hercules" 
"Mission Impossible" 
"Batman Returns" 
"Twister" 
"The Rock" 
"Starship Troupers" 
"The Frighteners" 
"Jurassic Park" 
"Nixon" 
Bill is an Artist-clinician for the Greenhoe/Shilke Co. He has given master classes and clinics throughout the United States, Europe, New Zealand and Australia. 
As a writer and arranger, Bill has worked on records for Michael Jackson, Quincy Jones, Aretha Franklin, Dr. John, Diana Ross and others. He has arranged many HBO Special Themes and composed the theme for the HBO "One Night Stand" comedy show. Bill also composed the theme for Fox's animated series "Peter Pan & the Pirates" as well as much of the underscoring. He contributed to such films and shows as "Licorice Pizza", "I Love Trouble", "Frank's Place", "Baby Boom", "Brand New Life", "Snoops", "Teen Wolf", and the special "Cartoon All-Stars to the Rescue". Bill composed the main title for a series of Kurt Vonnegut stories called "Welcome to the Monkey House" for Showtime. He composed a score for a documentary film about Frank Lloyd Wright called "A Very Proud House". 
Bill has also composed pieces for Wind Ensemble including "Streets of Paris" which was recently premiered by trombone soloist Larry Zalkind and The Riverside City College Wind Ensemble conducted by Kevin Mayse, "Atlantic Crossing", "Streets of Paris", "The Improbable Journey", "Fanfares, Questions and Answers", and "An American Dream". Bill and family now live near Asheville, NC. 
Bill plays the Greenhoe Bass Trombone.