Douglas Yeo Trombone Interview
Welcome to the show notes for Episode #22 of the Trombone Corner podcast. This episode features trombonist, Douglas Yeo
Listen to or download the episode below:
Podcast: Play in new window | Download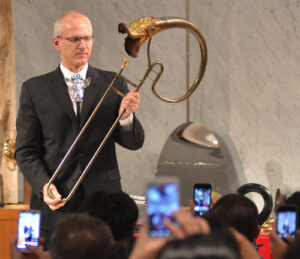 Recognized worldwide as a leading low brass performer, teacher, scholar, and author, Douglas Yeo is Clinical Associate Professor of Trombone at University of Illinois at Urbana-Champaign for the 2022–2024 academic years. From 1985-2012, he was bass trombonist of the Boston Symphony Orchestra and before coming to Boston, he was a member of the Baltimore Symphony Orchestra, a free-lance musician in New York City, and a high school band director. He served as Professor of Trombone at Arizona State University from 2012–2016 and has also been on the faculties of New England Conservatory of Music and the Peabody Institute of Johns Hopkins University. Since 2019, he has been trombone professor at Wheaton College (Illinois). He received his Bachelor of Music degree from Wheaton College (1976)—where he studied trombone with Edward Kleinhammer (bass trombonist of the Chicago Symphony,
1940–1985)—and his master's degree from New York University (1979).
In 2014, Douglas Yeo was the recipient of the International Trombone Association's highest honor, the ITA Award, given to him "in recognition of his distinguished career and in acknowledgement of his impact on the world of trombone performance." He has written dozens of book chapters and articles for many publications including the International Trombone Association Journal, the Historic Brass Society Journal, the International Tuba Euphonium Association Journal, and the Galpin Society Journal, and is the author of The One Hundred: Essential Works for the Symphonic Bass Trombonist (Encore Music Publishers), Serpents, Bass Horns and Ophicleides at the Bate Collection (University of Oxford Press), and co-author (with Edward Kleinhammer) of Mastering the Trombone (Ensemble Publications). His most recently published books are Homer Rodeheaver and the Rise of the Gospel Music Industry (2021, co-authored with Kevin Mungons, University of Illinois Press), and An Illustrated Dictionary for the Modern Trombone, Tuba, and Euphonium Player (2021, Rowman & Littlefield). His instructional DVD and seven solo recordings have received critical acclaim as have his 12 music arrangements that are published by G. Schirmer, International Music, Southern Music, and De Haske Music.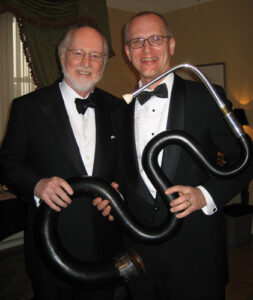 As a teacher, Douglas Yeo has given master classes and recitals on five continents and
has held residencies around the world including the International Trombone Festival
(seven times), the Banff Center (Canada), the Hamamatsu International Wind Instrument
Academy and Festival (nine times) and the Nagoya Trombone Festival (Japan), the
International Trombone and Tuba Festival (Beijing), and the Dutch Bass Trombone Open
(Holland). His website, yeodoug.com (1996), was the first site on the Internet devoted to
the trombone, and his blog, thelasttrombone.com—Occasional thoughts on Life, Faith,
and the Trombone—was launched in 2016. He is a Yamaha performing artist.
Video links (three links):
Elizabeth Raum, Turning Point https://youtu.be/yzHZW0zF_K4
Girolomo Frescobaldi, recomposed by Eddie Koopman, Canzone
https://youtu.be/Sk2BiD2FUYM
John Stevens, The Chief; Steven Verhelst, A Song for Japan
https://youtu.be/pPVxhmcMJ8g