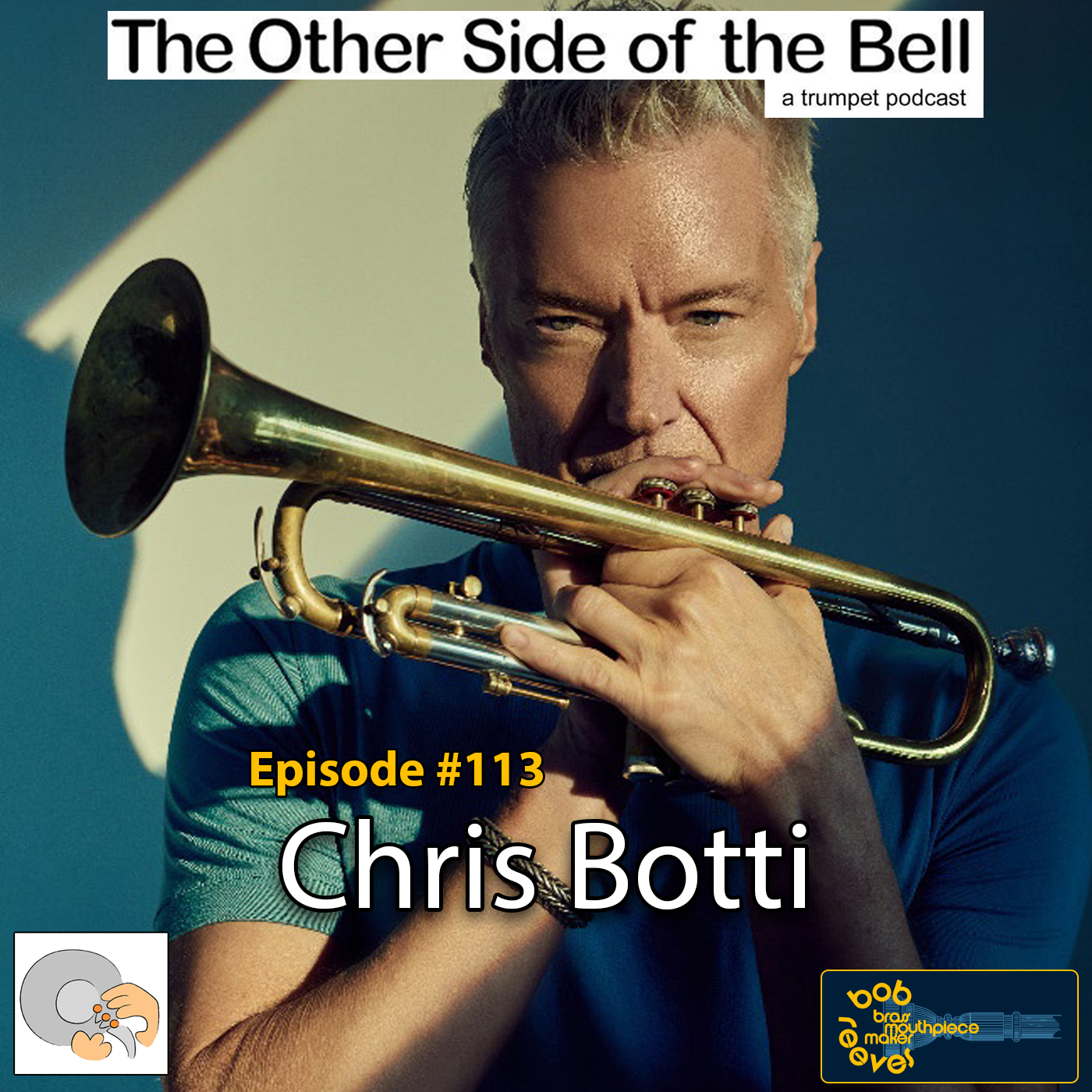 Welcome to the show notes for Episode #113 of The Other Side of the Bell – A Trumpet Podcast. This episode features world-famous trumpeter Chris Botti.
Listen to or download the episode below:
Podcast: Play in new window | Download
Other Places to Listen
Watch the Interview on YouTube
About Chris Botti and Vol. 1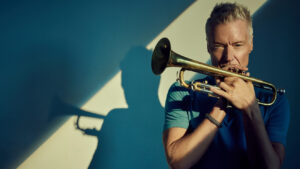 GRAMMY-winning trumpeter Chris Botti has been one of the most popular instrumentalists in the world for nearly three decades; he's collaborated with some of the biggest superstars on the planet, including Sting, Paul Simon, Barbra Streisand, Lady Gaga, Tony Bennett, Frank Sinatra, Aretha Franklin, Bette Midler, Joni Mitchell, Steven Tyler, Andrea Bocelli, Herbie Hancock, Yo-Yo Ma, and others; he's topped the jazz charts with numerous albums, earned multiple Gold and Platinum records, performed with symphony orchestras and on prestigious stages from Carnegie Hall to the Hollywood Bowl to the Sydney Opera House.
In short, Chris Botti really needs no introduction. Yet with his Blue Note Records debut, he's offering one anyway. Vol.1 is in many ways a fresh start for the trumpeter. Having successfully crossed over from jazz renown to pop stardom, Botti's first album in more than a decade finds him crossing back, with a small group project focused on acoustic jazz and classic standards.
"I turned 60 in 2022, at a time that seemed like a restart for so many things in the world," Botti says. "I wanted to strip away all the orchestral arrangements and special guests and focus more on my playing, the playing of my band, and these jazz classics that we always love playing on stage."
While Botti could boast of the major names with whom he's shared stages, this project allows him to share his enthusiasm for the jazz greats past and present that excite him – his conversation is peppered with references to everyone from Miles Davis to Keith Jarrett to Pat Metheny to Brad Mehldau. He points to landmark albums like Davis' Kind of Blue, John Coltrane and Johnny Hartman, or Metheny's duo outing with Charlie Haden, Beyond the Missouri Sky as models for the kind of "lifestyle" music he set out to make – music that is exquisite on its own but can also set the scene for a coffee shop or hotel lounge, instantly generating a sophisticated mood.
Of course, Botti couldn't have found a more ideal home for this artistic rebirth. Blue Note has been a standard-bearer of jazz throughout its storied history, and the trumpeter found a receptive partner in label president Don Was. "Anyone that's lucky enough to say they're on Blue Note Records should be pinching themselves," Botti says. "It's a fantastic honor. I had great runs on Verve and Columbia, so it's amazing to now arrive on the most famous traditional jazz record label."
Not that Vol. 1 is a complete about-face – longtime fans will immediately recognize Botti's glowing tone and regal melodicism, as well as his flair for investing the narrative of a song with high drama and vibrant emotion. "There's a cinematic quality that I like to hear in music, and that I've found that audiences really love," he says. "The essence of that remains on this album. It's paramount to me that there is incredible beauty and elegance to all of the performances and the way they're recorded."
Botti has assembled a stellar group of collaborators to achieve that blend of beauty and elegance for the album. The album was produced by the legendary David Foster, whose staggering list of credits includes three Beatles, Michael Jackson, Barbra Streisand, Michael Bublé, Diana Krall, Mariah Carey, Madonna, Herbie Hancock, Aretha Franklin, Dolly Parton and countless others.
"David commands so much respect from the musicians that he didn't have to say much, but he would navigate the session in a very subtle way," says Botti of the producer, who also contributed the lush, moving piano intro to "Danny Boy" that sets the tone for the album.
Botti has enjoyed a long collaboration with pianist Taylor Eigsti, while bassist Zach Moses, keyboardist Julian Pollack, and saxophonist Chad Lefkowitz-Brown are all members of his regular touring band. Veteran drummer Vinnie Colaiuta rounds out the core band.
They're joined by a number of excellent musicians, including Israeli guitarist Gilad Hekselman, whose atmospheric, cascading lines grace the Rodgers & Hart classic "Bewitched, Bothered and Bewildered"; classical violinist Joshua Bell, who brings a striking passion to Botti's stark rendition of "My Funny Valentine"; Uruguayan-born guitarist Leonardo Amuedo, whose years in Brazil are reflected in his graceful soloing on Henry Mancini's "Two for the Road" and the bossa nova feel he brings to "Time On My Hands"; pianist Esteban Castro, whose delicate restraint belies his youth on "Old Folks"; and singer-songwriter John Splithoff, who contributes and performs his romantic song "Paris."
Above all, it's Botti's clarion, heart wrenching trumpet that seizes he spotlight throughout Vol. 1. From the way he sings the yearning melody of "Danny Boy" to the keening, airy melancholy of his Harmon mute playing on Miles Davis' "Blue In Green"; the hushed tenderness he brings to Coldplay's "Fix You" or his shimmering flurries on "Someday My Prince Will Come;" Botti leaves no doubt of his mastery or his ability to speak directly from the soul of the instrument.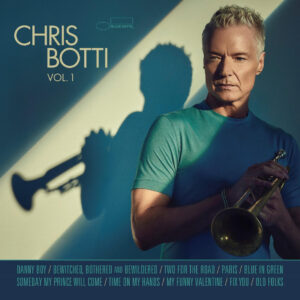 The title of Vol. 1 implies a new beginning, but perhaps even more promising is the fact that it also hints at a Vol. 2 – and beyond. "I'm so looking forward to that possibility," Botti concludes.
This episode of "The Other Side of The Bell" is brought to you by Bob Reeves Brass. Please enjoy this conversation with John and world-renowned trumpeter, Chris Botti. Chris was featured in back in Episode 24, and now again in Episode #113 with the release of his first album in over 10 years.  This episode is also available on YouTube.
[0:00:05] John Snell: Hello and welcome to The Other Side of the Bell, a podcast dedicated to everything trumpet brought to you by Bob Reeves Brass. We'll help you take your trumpet playing to the next level. I'm John Snell, trumpet specialist here at Bob Reeves Brass and I'll be your host for this episode. My special guest today is renowned grammy winning trumpeter. Chris Botti, Chris has distinguished himself in the music world over the last three decades, delighting audiences and collaborating with a litany of superstars such as Sting, Paul Simon, and Barbra Streisand with a succession of jazz chart topper, multiple gold and platinum records and performances with major symphony orchestras across iconic venues like Carnegie Hall and the Sydney Opera House. Botti's reputation precedes him now with his album volume one released on Blue Note Records. He returns to his jazz roots giving up the orchestral backings and featured artists for a stripped back focus on acoustic jazz and timeless standards. I met up with Chris recently to talk about his new album as well as a whole lot more.
[0:01:14] Chris Botti: Trumpet players suffer mo a lot of them from like I'm not good enough. I'm not getting this. They might say it, not like in a real downer way, but there's something that is, is like a tick. And it's very common to like people that play in an isolation in a room by themselves. And they're projecting like, well, how is this gonna be, how am I gonna reach this area? They can't, the negativity. Well, it's not unsurmountable. It, it, it, it, it never does you any good. And I'm struggling with that.
[0:01:50] John Snell: Now, we'll get to Chris's interview here in a moment after a word from our sponsor and some trumpet news.
Today's episode is brought to you by Bob Reeves Brass who share your passion for creating extraordinary music. You know that feeling when your instrument just clicks and the music flows effortlessly. That's what Bob Reeves Brass has been helping customers do since 1968. We've helped brass musicians like you achieve their dreams by ensuring their equipment is always in perfect harmony. We know you want to immerse yourself in the art of music making and we're here to remove any barriers between you and your creative vision. Bob Reeves Brass is truly your one stop shop for everything you need to fuel your passion and create music that touches hearts and souls. So, go ahead. Let us help you elevate your sound to New heights. Don't wait another moment to elevate your musical journey with Bob Reeves. Brass. Connect with us at Bob reeves.com. Shoot us an email at info at Bob reeves.com and keep up with the latest news on Facebook, Instagram, youtube and Twitter at Bob Reeves Brass. Embrace your passion for music. And let Bob Reeves Brass be your partner in creating the extraordinary.
Well, I want to get right to my interview with Chris. It's an awesome interview. You're not gonna want to miss it. We covered so much ground. Uh, I just want to give a quick shout out to all the folks that came by during our visit at Dillon Music uh recently out in Woodbridge, New Jersey, we had a lot of folks come in from the city, from New York City and uh from other places around Philadelphia and DC. So thank you all for making the trip out there and making our trip across the country worth it. Unfortunately, that's all the travel we have left for this year. But we have a lot of things planned for 2024 including the TMEA uh Texas Music Educators Association Conference in San Antonio in February, the National Trumpet Competition also in Texas in March. And I think we're putting together a Europe tour. So make sure you follow us on social media and make sure you're on our email list and uh keep abreast of all of these events.
All right, that's all the news for today. Let's get right to my interview with Chris Botti.
Well, we are here on location, The Other Side of the Bell. So grateful to be here with Chris Botti today on his beautiful scenic patio. Chris, thanks for joining me today.
[0:04:14] Chris Botti: Thanks for having me.
[0:04:16] John Snell: It's been, uh I realize it's been eight years since we've had you on. A lot of things have changed. And one of the things I wanted to start with is, um you had mentioned on the last podcast, you were touring a lot and we were talking about recording and like the economics of recording and all the, the things that go on with doing a new album. And you said at that point, just really didn't make sense to do another album yet. Here we are Blue Note Records. Volume one. What, what changed?
[0:04:46] Chris Botti: Well, I recorded, my original few years were on Verve and then I, I switched to Columbia Records uh in 2001 and they did wonderfully by me, like, uh you know, I couldn't imagine folks like Don Ienner who ran Columbia for so many years to have pulled the trigger in so many great ways to help me kind of become successful and around 2013, 14, 15. And it's, you know, it's just purely a business move and I would not fault them at all. It seemed to me that Columbia was just kind of like and great. They were in the Adele business, you know, and so a lot of things got fragmented as the, the rise of social media and, and um uh the internet and SnapChat and all that stuff started to ascend the record business, sort of, you know, kind of went in different directions with regards to jazz. And, and then when all of a sudden I got this offer from Don Was at Blue Note, um, to do this, I was just over the moon, especially, like we sat down in the spring and of last year and talked about like what kind of record you'd want to make and, and with whom you would like him to make it. And, uh and they've allowed me to do, um, certainly one of my more most favorite projects and, uh and then to, you know, I kind of optimistically called the Record Volume One because I was just turning 60. So, uh I, uh and then to have it, you know, my first record with David Foster producing and, and stuff like that, it was, uh it was so much fun to do the album and, and I'm really, really pleased with the way it turned out.
[0:06:22] John Snell: And a, I mean, it, I was tickled pink when I saw on your social media that it was coming out. I was like, Chris changed his mind. Something happened. We, we have some new music from Chris and I want to spend a little bit of time this lot we want to cover today. Um But so, I mean, how important was it for you to choose who you were working with? I mean, you mentioned David Foster producing, you know, I mean, you've been friends with him and collaborated with him in the past. Uh So, what was it, what did that look like?
[0:06:47] Chris Botti: I guess maybe the most important thing is that there have been many times that I've worked with him and sometimes we go, Chris, do you mind me just sketching out a solo for you? I'm like, heck no, I love it. Great. And his, you know, his melodic thing is so the fabric of his whole production besides being the great pianist and the ability to see takes like his ability to like, recognize what a good take is and to edit it all together. But what I didn't, um what I didn't think of before is that how different jazz musicians are when they get around David Foster, they almost like sitting up, you know, their spine straightens up, you know, and, and he has so much kind of like iconic status that um all of a sudden these people, I noticed these people would play different and then he would give suggestions like in which register to put things into like when to like not play at all. And I know that he's always had this, but I was just thrilled with the way it came down on my album uh to have basically an intimate jazz record. And when I brought it up to him, he goes, Chris, I haven't, I don't do jazz and I go David, you are the greatest, you know.
[0:08:00] John Snell: So, so he's got kind of like view from 30,000 ft of what's going on and all the puzzle pieces and whatnot. And I mean, what I love about the album is, I mean, it's, I don't, I don't want to label things, but it's probably your straightest ahead jazz album if that makes sense. But then it's still Chris, I mean, it's still like, has surprises in it, you know, the Coldplay song or um I mean, my favorite, if like, I mean, they're all my favorites, but my Funny Valentine, which I believe you've recorded before as well.
[0:08:28] Chris Botti: Well, so the, the thing about that arrangement is that seven years ago, Joshua Bell and I did a tour together and I would usually close with my Funny Valentine and I've recorded it in a jazz way many, many times. Um both live and a couple of times on record. But I wanted to have Rob Mathis, see if he'd write like a kind of almost like, imagine if Chrysler was gonna play over the top of a jazz piece. So usually if you listen to any of the classic Miles Davis or Chet Baker or whatever, like the pianist will set it up and they'll play jazz. But what I didn't want to have is a classical trumpet, sorry, a classical violinist trying to be, you know, Stefan Grappelli, I didn't want. So that's why if you'll notice the piano basically does not move off. It's like Chin, it's like DDD does not move really off that. So, and then I just kind of like, play languidly and then Joshua comes on just like, whoa, I mean, it's just, but if, if you would have just been playing jazz, if Taylor Eigsti who played piano on that track would have just been playing jazz with fills and stuff like that, it would not nearly have the drama to set it up for Joshua. And uh of course, he just sounds spectacular on that.
[0:09:37] John Snell: And then the interplay, like, I love it. The interplay between the classical violinist, you know, playing red music and your improvisations, you, you kind of lose who's doing what, you know, talking back and forth with each other, which again, little surprises, you know, in the album. Um And can you talk a little bit about the recording process? I mean, did you find just time breaks in your, in your touring to, to make it into the studio?
[0:10:02] Chris Botti: We did a three day rehearsal um to figure out kind of like key centers and like what the material will be. I had some ideas of, obviously, we all had a long time to think about that sort of stuff during COVID but had a series of tunes. Um And I, we've been playing a couple of things like Blue and Green on the road and stuff like that. And so when I talked to dawn, we also solidified a few tunes. So when we met with David for the rehearsals, I think it was two or three days and, and then we went into the studio a month later and just allowed ourselves six days to record and then we mixed and, uh, and that was it. And, um I'm thrilled to have Alan Sides back who mixed the record and kind of knows really like the way I like the front end of records to be like m most notably like by super, super high end sophisticated not plugins from a computer reverb units and compression or whatever it is to give that depth of field that is sometimes lost in this, in this day and age.
[0:11:11] John Snell: And you really get that from the album. I mean, the, the warmth, you know, I mean, from yours, but then also the piano sound and, uh I mean, every everything on there just has this analog for lack of a better word, you know. Um It sounds like you're in the room with you guys, uh which is absolutely amazing this day and age with all the dial and fun things like we have set up here to record us. Um uh Technically, do you know, like mics and things like that, that were being used? Because I know people always wonder about that stuff like
[0:11:41] Chris Botti: I know mine. Um I play a Telefunken 251 and uh Alan Sides who most famously owned Ocean Way Studios was kind enough to sell me two of his so Ocean Way Three and Ocean Way Four. I own 251 and I use those on my, on my trumpet. I, I mean, I bought them both off of him and then there's one I prefer more than the other, I think. Four. I like better. But I mean, I think they did a lot of really famous albums on those records. That's, it's probably one of the greatest microphones ever. Um The Neumann or I mean, the Telefunken 251 it's, it's a fantastically rare and great microphone.
[0:12:23] John Snell: Well, thank you for that because, you know, I always get those questions afterwards and I, you know, even though I work at a trumpet shop, I don't get too geeky when it comes to, to that kind of stuff. Um
[0:12:32] Chris Botti: But then Allen has like a whole mess, a mess of stuff, like, you know, super rare reverb units and plates and stuff and we mixed it Sunset Sound and they've got a couple of fabulous things there too. So, yeah. Uh
[0:12:45] John Snell: Absolutely beautiful. What fun. Um And I wanna talk about so that the Cold Play Song Fix You: Was that just something like a last minute ad in or is that something that you wanted to do?
[0:12:56] Chris Botti: You know, I, for many years, I played in Paul Simon's band. I always stayed, stood on stage and would be behind him when he played that um uh song American Tune, which is uh one of the greatest lyrics and songs ever written. And I really wanted to do that song. And during the three days of rehearsal, we kept trying to find an arrangement. Sometimes the trumpet like works fantastic in a particular song and it just doesn't lend itself to another type of song, no matter how much you like it, it's just kind of the one fault of the instrument of the trumpet. It just doesn't sound great on everything
[0:13:35] John Snell: L ikesaxophone does, right? We have our moments
[0:13:40] Chris Botti: and, um, just all of a sudden, I just, I mean, I always love that song, Fix You. Um I, um, and then I just said, hey, guys, what about Fix You? And they all kind of came in, we played it a couple of times and they all just went in and jammed out a little arrangement. Um And when Vinnie comes in at the end with his Vinnie Colaiuta played drums and comes in with his quintessentially iconic kick and snare, you know, and that it's sort of majestic but it's sort of rock and it's sort of jazz and sort of not, you know, so, and
[0:14:08] John Snell: I want to talk a little bit more about the, the recording process because I know a lot of times, you know, for better or worse things are overdubbed in a room afterwards and the band's actually not together ever, you know, as one whole unit when you recorded, you guys were all in the room together, right?
[0:14:24] Chris Botti: Just like, uh like a lot of the stuff for Old Folks. We featured this 20 year old pianist from Juilliard Esteban Castro, who I'd never met and he, he walked in and, and played, I remember like the first take on Old Folks and even David Foster is like, OK, SSS uh Esteban is his name, right? I mean, yes, he goes, Esteban, would you do me a favor? Like the wave of like music that's coming over the speakers right now is so amazing and intense. Can we just dial it back? Like 40%? And the track you hear is Take two and that's it. He was, we're like, we're done, you know, and then uh Bewitched, we had Gilad Hekselman play the guitar. I think that was like take three or four. Take three. We would open up every single day by coming in and playing as a warm up. We'd play Blue and Green just to get everyone in the vibe. And so we do it like two or three times. So when you have like 20 some odd takes of that and we chose one of the better ones of that. Um And then afterwards, when we were mixing, I went in and did a couple of things over with uh Gabriel Johnson, great trumpet player who, who exec the record. Um and, and then he and I would get real super anal like there's a couple of notes in, in, in different songs that just didn't have quite that placement on the microphone. Um And so we would try to, to like Fix You as one of them. Like I wanted to have that, that song and um Time on My Hands, we we really kind of like got, got in there and make sure that that there was space and the right, you know, the right kind of vibe on the, on the microphone with the trumpet
[0:15:58] John Snell: because it's not just the technique of the trumpet when recording and that's the amazing thing about hearing your album. It's like, that's the whole other side of it as well. Like is it actually picking up what you're playing the right way, you know, at the right levels and in the right tones because trumpet is not the easiest thing to mic
[0:16:14] Chris Botti: and you, and, and you can have, you know, you can be, it's not like the voice where like so many records of people just sing and, and the trumpet, you could be just um this much to the right or to the left of that cylinder and, and that, especially when it comes like to a mute or like a really, you're trying to get like a really sensitive low thing like on Funny Valentine. Um Even though that, that's where we, we recorded that in the take, but I mean, there's usually something that you would like to fix and if you have the ability to, you would. And so we, we did, we, we kind of went in there and, and then we get anal, super anal with the whole mixing process and, and really get out the microscope and drive Alan Sides crazy.
[0:17:00] John Snell: Well, but, and that's, I mean, just the style of the album, there's, there's no place to hide, you know, it's not a crazy big band album or, you know, a lot of electric instruments or anything like that. There's so much space on the album that any of those little things can probably be heard. And uh oh man, what fun. So I, you, you, you title it. Volume one. Is there a volume two in the works already or is it too soon?
[0:17:22] Chris Botti: According to, according to Don, he goes, let's see it. Volume two and volume three. Yeah, that's kind of what we do. What we were envisioning was volume two. Volume three of this, same sort of stripped back um stuff. And, and, you know, we are not apologetic about saying we Don and I's very fav one of our very more favorite records is that Pat Metheny Charlie Hayden, Missouri Sky Record. Um and then Keith Jarrett Melody Night with you where it is, it's got all that space. Um and, and a lot of times you're just delivering the melody, but we wanted to make it to be a lifestyle record. And I don't know, it's, it's one of my pet peeves and if I ever got into teaching or something like that, I would try to instill upon especially young jazz musicians that when you're, you know, when you're lighting it up in a club at two o'clock in the morning and everyone's had their share of alcohol. That doesn't mean the next day if you just go in and point your horn at a bell, I mean, at a microphone this far away and just light it up again, that is going to translate into a record that is intimate. But at the same time, you don't want to just go in and play lethargically. So you, you have to have a combination of like the, the lift of, of stature of playing, but then you have to like use restraint um and to, to want people to fall into the record and listen to it, you know, and I, I mean, I probably told you in the last podcast we did seven years ago that if you listen to Miles Davis', two famous, most famous records kind of blue and, and uh Sketches of Spain, they're the least jazz, but he would go out on tour with Sam Rivers and, you know, play Milestones, do all that and it's fantastic. But, but that's for a live audience, you know, when that same audience goes home after hearing long, long play, a bunch of, you know, choppy stuff or Joshua Bell playing Paganini. And they're all going crazy. They don't listen to that. They listen to Chopin Nocturnes, you know, or Beethoven or Brahms. And that's in, um, obviously in classical music. And so, uh, I want, Don Was, and I, and David Foster wanted to make sure that above all else, this was a lifestyle record that had artistry that you could get into and listen to Chad Lefkowitz-Brown or whomever play or David or Taylor Eigsti. And then, and then you could also just have it on in the house and trip out, you know, not do anything.
[0:19:48] John Snell: Which you certainly succeeded at. I mean, it's the, the, the whole as, as a, as an album as a whole, like it's, you put it on and just one treat after another. But if you do tune out, you know, you know, you don't get something in the background what's going on. Um And it's great. You didn't get that pressure from the label as well, you know, to, because I mean, going to your shows, I mean, it's like a rock show, right? You know, that's a party. I can't, I mean, it's a show!
[0:20:14] Chris Botti: Tge shows are a completely different thing. I would expect people to expect me to play with some real machismo stuff when I need to and also deliver the pretty stuff when I need to and go, you know, from a whisper to like, you know, insanity. Um But that you know, that's a whole another muscle is doing. That's like being a studio musician. Now, when I go back and I, the rare times I go back and do studio stuff like in a horn section or something like that, I, like, wait, I can't read music anymore. Basically. I'm like, I've lost that muscle, you know, like, and, and I remember a long time ago, Marcus Miller, like, reading an article about him saying, you know, when he went on the road with Miles and he'd get back in the studio and it's like he took him a three day, three days to, like, learn that muscle again. But touring is definitely a muscle that you need to learn. And even sometimes as much as I toured, I don't feel like I'm in the swing of it until like, two days out, three days out and we might go 23 days in a row and then take six days off and the first show back sort of sucks. And then it takes two days and you get that muscle going, get into the mode.
[0:21:21] John Snell: Um, I wanna switch to actual, the physics of trumpet playing since you brought up, you know, getting into it on the, on the road. What's, um, what is your routine look like when you're on the road? Um, is it just depending on how far you have to travel or do you try to get a certain set in, you know, to keep your chops up?
[0:21:39] Chris Botti: I, well, I mean, if we're touring I usually get to the gig 2.5 hours, two hours before the show. So I had plenty of time to put in, knock out an hour and 20 kind of, you know, I'm never running in there with 20 minutes left and just like being forced on stage. And then there's so much playing that I, you know, it's my chops. I remember Michael Brecker telling me, you know, about gig chops, you know, like it's completely different than practice chops. And, and after a few days of gigging, you just can, it's just like, you just, hey, man, we can just do two of these shows a night. We do, you know…
[0:22:17] John Snell: What you do at the Blue for a month and a half and
[0:22:20] Chris Botti: We just did three nights in Dakota and Minneapolis two shows a night. That was our first kind of coming back to it, but it's all coming up all the, the two shows in I DC and New York and San Francisco and Seattle and Tokyo. But um yeah, it, it doesn't ever feel like I'm, you know, chopping, cutting my lip or doing anything like that. And it's, it's, uh yeah, the only time that I feel like that it's bad is when I have a lot of time off and then I, my tendency is to like, get super neurotic about stuff and I go buy trumpets which I shouldn't be doing.
[0:22:59] John Snell: Hey, you, you gotta keep us in business, you know. Um, so I, I have some of these questions, I'm stealing. I want to give a shout out to the good folks, Karl Sievers who, Doctor Karl Sievers. Uh, he runs a fabulous, uh, Facebook group, uh, Bill Adam, uh, Facebook group that he, he, um, moderates and keep Mr. Adams' legacy going. And so I, I sneakily ask them for some questions to help include them. Um And so one of them was uh well, actually they all want to play routine with you at some point. So maybe, maybe one of these days we can just have a mass routine!
[0:23:34] Chris Botti: rI think once I get past the long toes and a couple of the Schlossberg and the Clarkes, yeah, there's um over the pandemic. I started getting into this. Um, tell me his name. It's Belk
[0:23:51] John Snell: Scott Belk. Fabulous player.
[0:23:52] Chris Botti: I mean, not only is it a mind bendingly amazing, he's amazing. Trumpet player, watched his videos and stuff like that and really dug the way that his book sort of humbled. I mean, it was like, can't really, yeah,
[0:24:06] John Snell: his flexibility studies
[0:24:07] Chris Botti: pretty, pretty spectacular. But, you know, II I do still do the long tones and the Clarkes and, and Adams kind of the way he thinks about stuff and the way he instilled discipline in his students, all of them is, is still, you know, such a foundation for what I feel um, and to keep your sound up and doing that, I don't know if I could, how I would do on some of the, you know, Charlier etudes.
[0:24:35] John Snell: But, but I mean, you still, you still pretty much stick to the core elements of the routine, the long toes, the Clarkes, the Schlossberg, things like that.
[0:24:45] Chris Botti: Yeah, I picked up a couple of other things. Um, and I don't necessarily do too much routine, like within, within a half an hour, within 45 minutes, I'm off to trying to like learn content or on Bebop and then to try to like, or to, you know, to try to like work out new lines and to try to do something that, or to work out my articulation. I remember, um Kenny Rampton told me one time he would put the metronome on 60 they just like, play a C, middle C, just boom and on every fourth beat or every first beat of the bar, whatever. Um, play a nice clean C and do it 100 times. Well, not only it's hard to do it 100 times, you know, maybe if you had a gun to your head, but like, you know, you lose count after a certain amount. But also, but it really, it really solidifies your articulation and, you know, I no wonder those guys are so good, you know. So I've been, I do that a little bit like especially if I'm in the hotel and, uh, flew in and, and, uh, and I don't just play it soft and I'm playing a lot of stuff softer to try to get the articulation because I know when I'm on stage I can give it tons of volume and, and, but it somehow playing soft, kind of cleans up a myriad of sound issues. And, um, and it allows you to play super delicate but it, it gives you power, you know, whereas when I was in college, a lot of Bill Adams stuff has put as much air through the horn as you can sing it. And there's a time to do that, like when I get to the venue and I want to do my long tones or play, you know, those, those Clarke stuff and stuff like that, you can do that. But there's something cool about, you know, taking a little section of time even it's like a little jazz phrase or um uh yeah, just some triad stuff and, and just play it super, super, super soft and slow, which is very difficult nowadays because everyone's brain is moving so quickly.
[0:26:43] John Snell: Yeah, fascinating. So then, so when you do that, the, the warm up, then you said you get into like content or jazz stuff. So what is that just figuring out new licks or working on new charts?
[0:26:53] Chris Botti: Never new charts. We, I mean concepts even like my record and stuff like that we sort of conceptually talk about it and like, but there's no written out, y
[0:27:00] John Snell: You're not writing out new terms.
[0:27:05] Chris Botti: Not really, not really. Maybe Taylor took some notes a little bit during, when we, when we rehearsed for the record. But, but with my band, there's never, never anything that, you know, you carry a book around or anything. Uh But I do, like, I do spend some time analyzing some solos and it's, it's very much like I kind of approach it the way I do if you know, like the way chess players learn, they need to analyze the famous solos. You know, I remember I spent fair amount of time during the pandemic uh transcribing and playing one Wynton solo. It was like a live version of him uh playing all the, All The Things You Are um amazing. Damn, you know, and, and, and, and just to kind of like, see people with, with vocabulary that you really admire and you got to take it in small chunks, you know, to kind of hopefully that, that will in ingrain in your playing in some way because at this point, you're not gonna, you could play something verbatim from someone. It's still gonna sound like you, you know, you know, it's not like, you know,
[0:28:14] John Snell: yeah, you have your fingerprint sound, you have your phrasing even though it's the same, same notes.
[0:28:20] Chris Botti: But you wanna, you wanna be able to like, you know, especially if you're playing a lot of the same material, you want to be able to come at something if it's a 2-5-1 and uh B-flat, you know, you want to be able to come at it a different way, even if it's like a different articulation or, and the more you play also you, you realize you tend to start on the same beat in the measure if you're improvising or you tend to start in the same register and you got to knock yourself out of that laziness and I'm getting older and it's hard to do, knock yourself out of that laziness, you know, and in one way I've done that, it's like, oh, you know, so and so goes, instead of, you know, starting in g of the staff and playing, you know, in the melody. Um And so that stuff's important to me, you know, Clifford Brown, uh Freddie, Wynton, you know, uh Keith Jarrett, Bill Evans uh and just analyzing solos and, you know, I've analyzed a bunch of like couple, well, Mike Brecker's famous solo on Confirmation um just to hear or to see how, how their brain was working at that time, you know.
[0:29:29] John Snell: Um Yeah, so you mentioned a bunch of names if that's who you're listening to now or anyone new I know most recently
[0:29:37] Chris Botti: um I uh heard of some Jeremy Pelt stuff. Ambrose. I heard live a few uh maybe a year ago. In San Francisco. He's great. Um, also Sean Jones who played on that Wynton, All The Things You Are as well as are fantastic. Um, he's a fantastic trumpet player, Nakariakov. You know, I don't know if anyone is that good.
[0:30:01] John Snell: I love, he's fantastic. So, you're getting ideas from, from everyone.
[0:30:05] Chris Botti: Articulation. There's, there's, um, young guy, Tony Glaus, there's Charlie Porter and, and I'll, I'll watch videos of their, the way they teach or the way they articulate. Um uh Charlie Porter is great. I mean, I learned a lot by watching his videos in the, in the uh in the pandemic uh on the way they approach trumpet and, and just hearing the more and more it's the way people articulate, you know, and, and, and the, the, the real conviction they have um that excites me.
[0:30:41] John Snell: Well, that's, and that's interesting because like hearing you play live, like the way you walk out on stage for the first note and the confidence you have is to me it's astounding, you know, and I wanna say it's because you've done it a million times. But obviously, you know, even if you've done something a million times, it can't be easy. Like, is there something that you do mentally or to prepare yourself for that?
[0:31:04] Chris Botti: Have a glass of wine? Um I, I don't think so, but, but, but over the years I, I always would go to shows and that people would come roaring out of the gates and sometimes we'd be playing on festivals and roaring out of the gates and we would make a conscious effort to come out and just back off. So let everyone, if we were opening with Danny Boy or something like that, you let someone in on the most intimate thing first, which is the most exposed, you know, and, and, and I, I've just sort of made that one of the things we always do and then we can go crazy a couple songs in and also we've had singers that have joined our band and they, they go, we don't, we walk on stage and there's like nobody counts off stuff. There's no, you know, it's, it's, there's a lot of space and so I think the space aspect really helps, you know, it helps the audience kind of come to you. And, and so that's why I always tend to start with something that's super intimate. And I've had some, I've had some moments where, I mean, we were touring in Europe one time and I had Vertigo. So when you come out and you open, I think we are opening at that time, we were opening with um uh Concierto de Aranjuez, and the room was just going as soon as the lights would hit my eyes. Uh and it was just terrifying, terrifying. Oh my God, it was, and I was like shaking and, you know, but that kind of went away thankfully, um over some time and um but I think you just gotta like, really be appreciative that there's an audience there. And so you feel good. So,
[0:32:54] John Snell: I mean, other than the glass of wine, I mean, do you, is there a process that you have before you go on stage or is it just, just go do it?
[0:33:00] Chris Botti: No, just to make sure that I, I feel like I can play soft and it's like focused after all, like practicing in the room and right before we go on, do you, does the, does the horn feel intimate? Right? You know, in the delicate and if I got that then I'm like, that's cool. Great. It's the times where, you know, your, your, your, your nervous system is somehow jostled around with like travel or bad food or, you know, injury or something like that. Uh I had unbelievable back situation go down this year. And man, there was like, there was a couple of uh like a couple of months, June May, June, July when I was like braced up and II I couldn't, I couldn't uh I couldn't, I was like, I, I don't think I can play at all. You know, you know, I remember we were in Tokyo and I was like in the back dressing room screaming and like it was like, how are we gonna do this? All right,
[0:33:58] John Snell: but you push through, you made
[0:33:59] Chris Botti: it, you just, you got to. So you know, you
[0:34:02] John Snell: do, you think it's, that's the work ethic and the fact that you just persevered through your whole life just,
[0:34:07] Chris Botti: I don't, I've had to cancel a couple of shows. Um, but, uh, from being ill or something like that. But, uh, but the trumpet is, you know, inherently the good things about the trumpet is that it's not like the voice. I've been on stage at the Blue Note and stuff like that with a 103 fever and, and um and really, really sick. This is like 10, years ago and you can still, you can still produce music, but I've been around singers like that, that blow their voice out and it's just over right. Then there's nothing that's gonna, you know, so we are blessed with that. And then also the, the trumpet is a torture device that you have to practice all the time. So you have no life.
[0:34:56] John Snell: So that's, that's exactly, that's exactly right. This is why we're here. Uh uh uh I want to talk a little bit over the course of your career. There's, you've had in our, our last interview, there was a lot of like turning points in your life and I want to kind of bring a couple of those up. Um First, your decision to go to Indiana, uh was that an easy decision? Would, did you have that in your sights um As where you wanted to go?
[0:35:22] Chris Botti: I went to uh a jazz camp a Jamey Aebersold Jazz Camp in San Jose 1978. And I met Professor David Baker and solely based on his charisma. I was like, I wanna study jazz with that guy. So I went to Indiana and uh originally studied with Charles Gorham for six months, nine months, something like that trumpet. And then I, I became aware instantly of like the camaraderie and, and the, the stuff about Mr Adam and what all this people like Karl Sievers and Bob Baca and John Harbaugh and Bob Slack would all be saying and how this is the guy, this is the gentleman that also taught Randy Brecker and Jerry Hey and everyone. Um and I was like, oh, do you think I could get a lesson? And I, you know, it changed my life because when I moved to Indiana, like I, I could play jazz but I couldn't play out of the staff. I mean, I could play like a, I could get out of B-flat, you know, something like that. But, and Mr Adam had this great way of instilling positivity and, and direction and all of the students practice like maniacs and I just, I just loved it for the 3.5 years. I was there
[0:36:37] John Snell: And the other decision, uh you talk about this, the other interview, but I can't assume that everyone's gonna go back and listen, although they should um is the story behind why you decided you never wanted to play in big bands again.
[0:36:50] Chris Botti: Yeah. Well, I, I, after leaving college we came out here to Los Angeles where we're right now. And, um, and I got off the plane and 1984 Hollywood was kind of a different situation. It was pretty rough, uh, and did a two week gig with Frank Sinatra at the Universal Amphitheater and then got on the bus the next day and I joined Buddy Rich's band. Um I was never the, the right fit. I mean, in Buddy's defense, I was, I, you know, I, I was really idealistic about what jazz should be. And I studied with Woody Shaw and blah, blah, blah, blah, blah. And I wanted to like kind of like play out over Buddy's stuff and Buddy wanted Bix Beiderbecke basically, you know, that's his slow jam and we went across the country. I mean, what the, the great thing about Buddy Rich or he's so unbelievably, was so unbelievably icon talented. But he, he would also, he, he had this incredible wit on stage and people would come to the shows and heckle him and he would engage in like blowback, you know, like, like, and he was hilarious and, and, and so on the ball, but he was a terror to his band, you know, and, and it made me kind of know that I never really wanted to stand in, uh in the confinements of four or five trumpet players and, and play in a big band. It's just, it's just not my thing personally, you know, like I always thought I wanted to, you know, get rid of all that and play in the, in the center of the thing and, and then Buddy at the, like I said, was kind of famously not the nicest bandleader. And it always made me kind of think, like, man, I, I just, I just, this is just too military for me. Um, in the way, you know, like the drill sergeants dress down their students or the, it's kind of like that they break your spirit before I guess they join the band or something. And I, I just, it wasn't me. Yeah.
[0:38:53] John Snell: And that's, it points to a lot of life is not, it's knowing what you want to do, but also importantly what you don't want to do, you know, and because how many, how many musicians came out of Indiana and they went to Buddy Rich Route and then they went to Vegas or they went to Honolulu where you went, you know, end up in L A and you knew relatively early on that wasn't the path you wanted to take.
[0:39:15] Chris Botti: Well, I mean, in hindsight, it worked out, you know. Um, and I also knew I didn't wanna try to necessarily go over when I did finally move to New York. Wynton was kind of already blossomed onto the scene. I knew I didn't wanna try to go do the same kind of straight ahead tipping real jazz situation that Wynton does. So it's just like one step out, like, it's like a yellow brick road, you know, like they put down one thing, you step to the next and, and then at the end of it you look back and go, oh, I'm 60 now and we've done so much, uh, and had so many great opportunities, but I would never have guessed that this would have ever happened that you would ended up.
[0:39:54] John Snell: Yeah. Um So we do a trombone podcast and we interviewed Mike Davis, Michael Davis and he was talking about your days in New York, how you guys together with the horn section and busking in the streets of New York and stuff and the way he tells it is there was a point where the horn section was getting ready to tour the Rolling Stones and you decided you wanted to go and do your own thing. Do you remember it like that? And is that how you remember that decision? Because that couldn't have been easy with Rolling Stones, biggest, maybe group of all time them and the Beatles, you know, so to speak.
[0:40:26] Chris Botti: I mean, to be, I just, I never really, I never really thought that the way I play trumpet would fit into that thing. And, and you know, Mike and Andy Snitzer and Ken Smith and I, we played in a bunch of like, you know, blues bands and, and stuff like that and, and as much as I love the camaraderie playing with Michael Davis, who's like arguably one of the greatest trombone players. I love him. He's awesome. But, but I always just knew I wanted to do a solo thing, you know, and I always wanted, I've always wanted to do that ever since when I was a kid or then later listening to like Chuck Mangione or something like that. I always thought if I could have an opportunity to, to play with a band in front a band, it would be my dream come true, you know, and, and to stand in a section as, and, you know, listen, the Rolling Stones were world class are world class and they were, they're always been world class to their side people too and they respect and admire people like Darryl Jones or, you know, uh Andy Snitzer or Michael Davis and et cetera, Lisa Fisher. Um And that, that is very admirable, like I really respect them so much. But for the way that I like to play, I think that, that, you know, and I, I instinctively sort of knew that, um,
[0:41:43] John Snell: Did you, did you have other work lined up?
[0:41:46] Chris Botti: I mean, so that was, that was literally, I just gotten my first record deal on Verve. So we were going into the studio that fall to record and that's when the tour with the Rolling Stones started. So I knew I had to choose one. It's either gonna be The Rolling Stones or have my own record deal with my own solo thing. I was so, you know, I had two or two years with Paul Simon in 1991 and 92. Then in 93 I went out to try to get my record deal, got the record deal in 94 and recorded it in 94 and it, the record came out in 95 and then I began this journey of like touring and, and then subsequently joining Stings Band and, and, and then building upon that, but, but I, I would have never joined Stings Band if it would have been like, play in a section, you know, I mean, I did that when I was 28 with Mike Brecker and, and it was, it was amazing because I got to stand next to Michael Brecker. So, and, and to see how Paul Simon works and, and, and to be around Steve Gadd and these legends, you know, and, um, but I just, the more and more I kind of moved away from studio work uh into more of a solo kind of situation and I love the freedom. And also, man, there's a big difference between being able to like make up your own stuff and play when you need to, then to know that you've got eight measures off and then you have a, you know, shout chorus that lasts maybe a chorus too long and, and your, your chops are falling apart and, like, you know, and then all of a sudden you, you bring out real vulnerable stuff and you're playing. Um, and I thought that's a good way. I can, like, maybe not do that. Just only show the good stuff.
[0:43:29] John Snell: Well, I appreciate your honesty, Chris, uh, and I love that, but it's, I mean, even though you had the, the, the record deal with Verve and that's still risky because it, you know, your album might fail or, you know, it might fizzle. So to give up, you know, that kind of work to go on tour of the Rolling Stones to know because you knew you wanted to have a solo career. And that's, you know, you took the risk of your choice.
[0:43:54] Chris Botti: I did a master class last week in, in Greensboro for some really nice, uh, college kids there and someone asked me a question like, you know, what do you think the definition of, of dedication is? And I said, well, the one that comes to mind for me is after I got done with that 2.5 year Sting tour. Um, and Sting again is a lot like the Rolling Stones. He pays his sidemen very well. Uh, and I got through with that gig and had a big chunk of change and most people and I wouldn't fault anyone. 99% of the people would say I want a dog, I want a cat, I want a wife. I want a house. I wanna be domestic. I wanna live my life in sunshine, in L A, whatever. And I was like, I don't want any of that. So I went on the road and I took all the money that I'd saved and fueled my band, airline tickets, hotels paid him what I could. But the, it just went all the way to broke. So my business manager called me up and I was 42 at the time and they said, Chris, you've got $5000 to your name. And I was like, you know, that's not good. And I said, uh but we had done this was like spring of 05 and we had done Oprah in October or November of 04. And it takes a long time for a promoter to like, get to know who you are and then book you and then have the gig, you know, the, the gigs are booked six months in advance. But when something like Oprah happened or where we were opening for Sting and we'd see these promoters, they would book us. And so I knew that the next gig I broke even or I could make a couple hundred bucks, you know, like, and then it slowly built up from there. But I think you, you know, you have to like musicians even if you're 10 and you have to convince your parents that this is what you want to do. Or if you're 42 and you want to be a soloist and keep your band on the road, your convictions have to, uh, take precedent over the norm.
[0:45:59] John Snell: That's amazing. That's a masterclass right here. I mean, because it's absolutely, you know, there, there's nothing's ever handed to you, you know, and obviously,
[0:46:06] Chris Botti: And, and if they hand out anything, they're not handing it out to trumpet players.
[0:46:10] John Snell: Much fewer, yeah, much, much fewer. Uh, but that's it. I mean, obviously you had connections made, met the right people or cross paths through your life, but you were also doing the job, you know, otherwise those people wouldn't have recommended you to the next job or you wouldn't have been asked to do things. Uh, but that's as I didn't know that about you funded your band!
[0:46:31] Chris Botti: And, and I don't want to tell you the figure, but it was, you know, a lot of money and, and, um, uh, yeah, I, I just had this, you know, now today I might be a little more freaked out about that, you know. But, but, but I just had this like devil may care. Let's just go, you know, and, and, and it, it worked out, you know, and I, I'm, I'm happy that I took that risk, you know.
[0:47:02] John Snell: So amazing, amazing story.
[0:47:04] Chris Botti: Do you have time for one more story?
[0:47:06] John Snell: We have all the time in the world!
[0:47:08] Chris Botti: You, you mentioned Michael Davis. And this is another thing that I tell uh young people is that, you know, you have to like, think on your feet and know hopefully that things will work out. And when I first moved to New York, I met one of my dearest friends and a fantastic musician. He became a rock star named Kip Winger. He had a band called Winger, not Jazz is rock. And he and I became friends. We were basically both living on soup cans. We had like no money. Like we were like scuffling. And at the time, I loved this, this very eclectic R and B band called The System. And if you were like, nobody really knows who they, they now, but at the time, they were like an underground cult band. And my friend Kip Winger calls me up and he was playing bass with Alice Cooper at the time and he said, hey, Chris, do you, do you know who David Frank is? I said, heck yeah, he's the one of the two members of The System. And he goes, well, he's in the studio next to me recording with Steve Winwood that take me to Higher Love, you know that, that song, that horn section. And so he goes, do you want to come down and meet him? And I said, yeah, so I raced down to Atlantic Studios, iconic unbelievable studio and I walked up to David Frank, I'd only been in town for like a few months and Kip introduces me and, and, and uh, and he goes, so you like my band? I go, man, I love your band. It's incredible. And he, and he goes, what do you play? And I said the trumpet and he goes, there's no trumpet player that likes my band. And he goes, well, how's New York for you? And I looked at him and just lied. I said I have an incredible horn section. Complete lie. Made it up. So I go home that night on the way back and I call Mike Davis and I'm like, Mike, we got to form a horn section like right now. So we got Kent Smith or Kent Kent and I got Mike and um uh and Andy Snitzer and we formed a horn section and we went in and we wrote out thinking like we could be the next Jerry Hey on the East Coast, right? We wrote out a little demo, we recorded it with stuff and we played it and I couldn't, at the time, we just got the tapes back on the Friday, right? And on the Sunday, I'm sitting around my apartment and I could not afford the rent to continue. We had to move into a smaller place, right? For cheaper rent. And the, the doorbell rang on my apartment. And then he said, I said, I'm here to see the open house for your apartment. God as my witness. I opened the door and I went, wait, what David Frank from The System he had, he was, you're that trumpet player kid. I said, oh my God, here's my demo tape. And the next day we were on The System record and David Frank introduced me to Arif Martin and all the people that came through Atlantic studios, uh Scritti Politti, we did, it broke us into studio stuff because of, because when you work for Arif Martin, you, you can do a lot, you know, we did Dylan and Aretha Franklin and blah, blah, blah and, and Thomas Dolby and like a ton of stuff just by like lying. Basically. I'm not saying kids lie, I mean, but, but you know, you, it's, it's, it's kind of a promotion, promotional aspect of like putting your best foot forward. But it also, it says something like about that age old adage, you make your own breaks, you know, like, and, and, and so we backed it up with enthusiasm and brought to the table, great musicians and stuff like that. But you'd be surprised how many, like if you have some wacky idea, it just could work to say yes.
[0:50:45] John Snell: Yeah. Well, the Ghostbusters, one of my favorite movies at the end, they say if someone asks you if you're a God, you say yes. You know, before Zuul is gonna take everyone down. But I, I also, I had a professor that also said, if if there's a book written on it, you can do it. You know. So if someone asks you, can you play clarinet with a I, you can do it. You don't even need a book. Yeah. But, uh um, yeah, if there's a book written about it, then yes, you can do it and you learn how to play clarinet and you teach it or whatever it is. And that's. Yeah. Yes, we have a horn section. Yeah, we'll have charts tomorrow. Uh I'm glad you told that story.
[0:51:16] Chris Botti: And David Frank went on to write all those Christina Aguilera songs, Genie In A Bottle and all that. I mean, he lives in L A now. He's a uh major, major talent and uh yeah, I'm so glad that he took a chance for us with us.
[0:51:33] John Snell: Yeah. Amazing. And the timing of all of that. Um I wanna talk, go back to your live shows a little bit because I've been fortunate enough, strangely enough, when I interviewed you the first time I had never heard you live until that night, which was like textbook, all the things you talked about in the podcast you did that night on the show, which was so cool to see. Um And I've been fortunate to see you in a variety of venues. Now, every time I'm at a Chris Botti show, someone in the audience around me says I can't believe I'm at a Chris Botti show. I can't believe he did that I can't be, he's playing this tune. Can you, you know, and that, and the fact that you kind of like you talked about with playing an intimate piece to bring people in the way you talk to people at the show, bringing kids up front and having them sit on the stage on this. Like you, whether it's the Blue Note, an intimate venue or a few 1000 people, like you bring people in, like, is that something you had to learn through the years? Is that something you got from Paul Simon? And Sting?
[0:52:29] Chris Botti: I think that is um the very first gig I remember when, when, when we did this gig Universal Amphitheater with uh Sinatra. I was just like, you know, I was 22 and I was at least able to recognize that here's a guy that walks out on stage, one of the most famous American artists ever and could project all of his rock stardom stuff to the back room. So everyone's like going, oh Frank Sinatra. But then he would also carry on conversations with people right down here, which come, it has to come from his love of hanging out with Rickles and Dean Martin. You know, because there's a little bit of a comedic old school old school way and he would also always turn around and acknowledge his band in such a great way. The one of my, I have a, like a pet peeve, you know, when, when, when jazz musicians come out and the very first thing they say is they introduce the whole band right away. It's like giving a kid six boxes of Cheerios and say, how do you like them? They're gonna be just like, you know, like you can't, you can't really know someone's personality and I, I want to make sure that someone in the audience not only feels like they're on stage with us, but they're led into interesting things about this person or that person in the band, you know, and it sort of brings the whole thing together and especially with like, pop music. Now I go see a show and, and then you get to the end of the song and the person says, thank you. And then the guitar player comes out and hands them a new guitar and they tune up for however many minutes and then, then this next song is, and the drummer goes click, click if you ever see that kids, that's because they're playing with computers in a click track, you know, like, and so we, we always make a point to or I always make a point to like, try to connect with the audience. And also as little count off from the drummer as possible. Like sometimes, like, everyone's doing a different thing. Sometimes it's just, I start, they start, we, one song we played during the song, I walk out in the audience and I say All right, Lee, let's do it and then he counts it off and I can hear it. But, uh, but, yeah, but we don't do any of that computer stuff right now it's
[0:54:41] John Snell: all organic and, and the way, in fact, it's funny,
[0:54:43] Chris Botti: I, I don't even do monitors. Our, our drummer does a little bit but I, I don't do that stuff.
[0:54:47] John Snell: The, the show I saw you at SF Jazz, there was a newborn in the audience and was kind of crying in between some of the quiet moments and stuff. And instead of like
[0:54:56] Chris Botti: Some of the old born are crying shows too!
[0:55:00] John Snell: you went down and you played for the newborn. So you had a mute on and it was like all of a sudden like the people that were like, oh who brought a baby to a Chris Botti concert, you know, like all of a sudden it was just like we were all there and then I think Lee even came down and started playing on his drum solo. I mean, it was just amazing, you know, you can't script that stuff but you guys just like naturally do it and everyone's leaving thinking man, when can I go back now? Oh, I just heard giant steps at 220 you know, some sax player played 30 choruses. And while technically, it was amazing, I never want to see that again kind of thing. And um it
[0:55:38] Chris Botti: just, and I also think that one thing I like is that the guys in my band interact with one another, you know, whether it's looking at them or speaking to them or cracking jokes or doing silly stuff. If we back it up with playing, then the audience they don't feel as academic, uh, they feel like they can be there with their girlfriend or boyfriend. Like, and, and they don't feel like this is a museum piece and, and we have to like it and then we kind of go home, kind of go. No, maybe you, you put it better, you know, the giant steps at 220
[0:56:13] John Snell: Which just has its place. It's fine, it's fine. Um So, and there's another question that comes from the, from the Facebook group um about inspiration because I mean, I'm assuming now you're not paying out of your pocket now for your band to go on tour. Uh You've reached that point now. Um But you still tour, how many days a year? Like, how do you keep that inspiration to keep doing that? Is it?
[0:56:36] Chris Botti: Well, I painted myself into a corner uh with my life. I don't really necessarily have, I don't have any kids. I don't have a wife and this is what I love to do. You know, I, I hope I'm physically able to roll along like Doc Severinsen is, you know, like, and, and play the trumpet and have it not turn against me as long as I can and to be also very acknowledge and grateful for that this happened. So and, and you have to like take care of the weeds if you want the garden to grow, you know. And so that means you have to get out there and do something about it. And so many people, especially if they have fame when they're younger, then they quite rightfully so wanna go off and have a child or two child or four Children and, and to enjoy their, their life and try to explore that stuff. My being recognized and well known and being able to, you know, have a life touring didn't happen until much later, you know. And so I don't want it to go away. And I, and I, by not having a family and all that other stuff, I just kind of like, go well, you know, I, I want to do that and also I, I like being on, I like my family on the road. Um, I like the people I work with. Um, and it feels natural to me.
[0:58:02] John Snell: Yeah. It's funny when we were in Japan, uh, one of the brass magazines over there interviewed Bob Reeves when we were there and asked him, you know, what he was going to do in his retirement. Which is kind of funny because I think he was like 88 at the time anyway, you know, well, past retirement age and he said kind of the same thing, like this is what I love to do. It's not work to me. You know, obviously there's good days and bad days. But you have those in retirement too, except you're sitting home gardening or watching plants grow or something. So, you absolutely love playing the trumpet and four people, four people in front of people.
[0:58:34] Chris Botti: Absolutely. Yeah, absolutely.
[0:58:38] John Snell: Um, so let's, let's get geeky. You've been, you famously played the Martin, uh, not the committee, the Handcraft for years. A Bach New York three. How did you get on that equipment? And, you know, was it, I know Miles is a huge influence. Is it that kind of connection or did you just fall in love with the Martin?
[0:58:55] Chris Botti: There's a, a friend of mine, Jim Hale, also an Adam student who came to my show and, um, down in uh Newport Beach, I think it was in like 2002 and said, uh Chris, I think you might like these, these horns and he had two horns and I was in the autograph line when people would come out and take pictures and, you know, and, and he handed me a horn. It was like a Benge or French Besson. And I can't remember what it was and, and something that Doc had had and I played it and I go, this is really nice. And then he handed me this other horn and I played it one note, just that horn. I played one note and I said you're not getting this back. Call me tomorrow. We'll work out the details and I wrapped a towel around it and it's, I've never not played it for 20 one years and it's a 1939. I don't know how many Handcrafts large board they made, but since I've owned one or since I own that horn, uh I've only seen two for sale and I bought them both. So I have two downstairs that you saw and I kind of like lately been tinkering around with what if I take the tuning slide from this and put it in? How does that affect? That blows a little tighter. And I just popped in from one of the horns who uh um who was amazingly owned by Joey DeFrancesco. Uh Yeah, he had a large bore Handcraft number three and he sold it to me and then I just popped in that second valve slide. I had no idea how much the second valve slide. Josh Landress has told me that like the old school lead players would turn around their second valve slide and have the button going the other way and how that changes the sound and he's right. It really,
[1:00:40] John Snell: Dude, we're gonna break the internet again. So the first interview you were talking about Wynton, you were watching videos of Wynton and how he changed you, you changed how you held the horn because a video you saw of Wynton holding differently update on that. And then, and then now, so now we're going to have trumpet player. Like I got so many emails. I wish this was a video because I, I, you know, I actually had to take photos of me holding the horn like you did. So people could see. So now we're gonna have trumpet players flipping, flipping their second slide around.
[1:01:09] Chris Botti: I hope I don't get grief from Wynton about what I'm about to tell you. But uh our first gig back from pandemic, we played June of 2021 was in Central Park in New York. And then the second gig was in Lviv, Ukraine and I was absolutely blown away at how beautiful that city is. And um was dating a girl from LVIV and said she goes, yeah, Wynton is gonna be here on Monday to play the festivals and we were playing on Saturday and I said, hold on. I went to my manager, I'm like, can I, can I do this? Can I stay? I wanna see Wynton because I'm big, big time fan, right? And so, um he said, yep, see you guys. And he left us and had fantastic time in Lviv and, and got to see that city. And on the Sunday, Wynton came down with the jazz guys at Lincoln Center and had dinner with me and it was great and he's such a, uh you know, a, he's such a, a very charming guy. He said, you know, Chris, man, I'd love for you to, to sit in with me tomorrow at Jazz at Lincoln Center. And I, I, we got, got to sleep that night and I remember my eyes going at four o'clock in the morning. I'm like, no, all those lessons and that you've lived through. I just, well, I just, I wanted to go to the show and enjoy seeing that band and seeing those marvelous musicians and not necessarily like, you know, how my chops or how, how is this, that and the other thing. Anyhow, so me and my friend uh went back and saw Wynton and, and he was in his dressing room and I was like, win and like, I know you talk so much on, on podcasts and, and through Jazz at Lincoln Center about swing and the history of jazz and the meaning of jazz and everything. But like, ok, let's cut it. What do you actually practice? And he sat there with me for like 20 minutes and showed me like his hand position, what he's thinking, you know, like what he practiced the Clarkes, the articulation. And I know through Tatum Greenblatt, who is a fantastic trumpet player as well. Uh You know, he spent a lot of time, you know, just doing Clarkes super slow. Uh and he, and he practices softly too to like, you know, get those corners to be like, completely focused. And it was, it was awesome. You know. And um, yeah, man.
[1:03:38] John Snell: So he does, he does Clarkes like the rest of us?
[1:03:40] Chris Botti: Well, he doesn't do Clarkes like the rest of us. He does Clarkes at like 60 BPM. So each note like, don't, don't so soft, don't and never plays above a G. This is like, you know, and holds on to it and does the whole through the cycle of forths. That's a lot of notes man. And that's a, that's also like a, it trips your brain out. You know, it's like being in a sauna, you know, like it's fine to like to knock out a Clarke. But when you have to go through all of them at that tempo, at that absolute tone, it's, it gets to be like water torture.
[1:04:20] John Snell: So it's only, yeah, it's like, yeah, or kind of meditative or whatever, like, or like you doing your 100 C's, you know,
[1:04:29] Chris Botti: He plays a lot of that. This is what he told me. I don't, you know, I don't get the whole picture, but he does a lot of the, you know, the regular lip slurry stuff that and, but he was saying, you know, he, he, he got a ton of stuff from Ryan Kisor about lip slurs and you know, that stuff that's just mind blowing, you know, and, and Ryan Kisor and all those guys in that band are such fantastic, Kenny, et cetera. They're just great trumpet players and I was I loved it. It's such a different show than mine and I, I just love, like, watching, you know, the way that they interacted, um, and that, the way they play the together, you know, not just together but it's just like they're playing, that's some difficult stuff, you know? And it's so, it's so well balanced. The mix was great. I thought it was fantastic, high level.
[1:05:14] John Snell: lAnd you don't get a lot of big band experiences like that anymore, you know, like they tour and they're, I mean, even though some of them don't live in New York or whatever, like, they play enough that they're like a family, like your band, you know, and can interact and that sort of thing. Oh, what fun. I haven't, I haven't seen Lincoln Center yet. It's on my bucket list. So, hopefully lose time. So, and get out there. Um, I know. So we've been going way too long. Thank you for your time. I mean, it's, it's, it's the, uh, the scenery out here. I could just spend the rest of the weekend here. Um, I do want to talk because you're getting ready to do the, the, was it? 56 shows? 58 shows at the Blue Note, uh, what you've done for decades now? 1919, almost decades. Um, how do you, does the band survive? You know, I don't want to turn this into a reality show but spending that many nights in a row..
[1:06:05] Chris Botti: And what people don't understand is that it starts with always two shows and two nights in Washington DC, two nights in Boston, right into 28 nights in New York, right into seven nights in San Francisco, right into six nights in Seattle. And the most of all of them, except for Boston is two shows a night. And I'm not saying we always get out alive. I mean, it, it's been, I mean, I remember last year at, toward the end of last year, uh my manager came to me and said, man, we got to take some time off. So we finally took most of August off, you know, to get some sort of like grounding and we took a lot of it may off this year. Um So, so we gotta start to build in some pockets. But, you know, like you, you kind of go a little insane and then you realize at the end of it, man, we've got basically the whole next material set for the next year, you know, because you come out of it playing different and new stuff happens and new kind of arrangement ideas that someone just does on the fly or a new song thing, we just throw it in the set. Um And it works and I mean, I'm confident I'm hoping, uh that, that, uh you know, I was having some chop issues last year and stuff like that. I'm hoping that doesn't seem to be the case now that I'll be able to like, kind of go into it with a lot more fun and enjoy. And then we're hosting our very first cruise this year that's sold out. And I'm super grateful that it's, you know, our maiden voyage, so to speak. And it, it's sold out/
[1:07:38] John Snell: Botti at Sea. Yeah, I didn't get in in time. Well, there's gonna be, I'll get on the crew. I'm gonna send in my application, I'm gonna get on the crew and you might see me in the, uh, in the, uh, in the dining room. Uh, but that's exciting. Would you mind spending a couple of moments even though it's sold out?
[1:07:53] Chris Botti: It's really cool and then there is gonna be 2025. Um, and so they asked us to curate a cruise and it's, uh, David Foster, Catherine McPhee Gregory Porter, uh Melody Gardot, Take Six, Lisa Fermo. Um, The Mentalist LIOR SUCHARD who's just this incredible, you know, the next level magic. I don't know, you know, mentalist. Um, and, uh, and we're going to, uh, yeah, do do it again next year in 25 and 26. So, yeah, get out to sea.
[1:08:27] John Snell: I mean, you're playing too, I'm assuming. Right. It's your, your cruise. So, are you playing every night or with different artists?
[1:08:34] Chris Botti: No, they, they're bringing all their bands on and stuff like that. And, um, and we, and we, I think we played two shows and then the rest of the time I just kind of host and, and, uh, I look, I, I've never, I've done cruises on other people's cruise. I've gone on the jazz cruises, Dave Koz or something like that and I've never had, um, to host one. so it's, it's going to be quite interesting, you know?
[1:09:00] John Snell: What fun. What fun. 2025 2025. Well, I gotta start, I gotta start saving up. Um Chris Botti on Volume One is out volume two. Hopefully in the near future you're gonna be at the Blue Note. Um absolute honor having you on the show for the second time. Um The first time I asked you what your best piece of advice was. So you've already answered that. And so folks watching this for the first time, go back to episode 24. Um So I'm gonna ask this, maybe the same question asked a little bit differently. But if you could go back in your life and you could do something over again, what would, what would that be? Uh you know, 25 year old Chris, 20 year old Chris, 30 year old Chris, what advice would you give them, him?
[1:09:47] Chris Botti: Iii I think, and I struggle with it today is to not judge yourself in a vacuum. Like I think trumpet players suffer most, a lot of them from like I'm not good enough, I'm not getting this. They might say it not like in a real downer way. But there's something that is, is like a tick and it's very common to, like people that play in an isolation in a room by themselves. And they're projecting like, well, how is this gonna be, how am I going to reach this area? They can't, the negativity. Well, it's not unsurmountable. It, it, it, it, it never does you any good. And I'm struggling with that now, you know, and during the pandemic, I struggled with it big time, you know, and in a room by myself practicing, kind of going like, well, I just never, it's never. And so I think if I could have somehow not had that in my life or not have it now to allow the air to flow through the horn and to just practice and try to slow down and, and figure out how to be better without beating yourself up all the way because negative thoughts about yourself never amount to anything. And 99.9% of the time everyone's thinking negative things about themselves. So everyone's kind of in their own bubble. And I just wish I would have known that and I wish I could shed that about myself right now.
[1:11:28] John Snell: Absolutely wonderful advice. And then when I told people I was interviewing you again, I have a laundry list of people that wanna thank you. And I'll probably do a outro at some point to list these people because, you know, thank you. For being so generous with your time and the things you, I have uh one, a good friend of mine, uh his trumpet student went and saw you at a show and he was one of those kids that went up and sat on the front, front row and then he met you backstage and he, you uh you let him play his trumpet and you, you told him he played Arban. So now he's actually, you know, all of those kinds of stories um I'm flooded with and so usually I say these things afterwards, so to tell you in person, you know, the impact you've had both on me, my wife, my sound guy. I mean, all of us, how you lead your life, how you present yourself and obviously your musicianship. I mean, thank you so much. It's, you know, thank you. Thank you. So, Chris.
[1:12:15] Chris Botti: All right, we'll see you in seven years. We'll do it again. Yeah. Next one's on the racetrack.
[1:12:19] John Snell: 2030. Thanks, Chris!
Without fail. Every time I interact with Chris, whether it's these podcasts or hearing him at a concert or seeing him before or after a show, I'm blown away by how he carries himself, uh his mindset, obviously, how he plays the trumpet, uh how he treats other people. Like I said, at the end of my interview, uh when I told people that I was gonna interview Chris again, the number of folks that said, please thank Chris for taking care of my trumpet student after a concert or how grateful or gracious he was with his time with that person. Um I mean, it's a list of people and I'm, I'm no different. Uh I've seen Chris live and uh he came up and talk to my kids for 20 minutes, you know, even though though there was a ton of other people around, uh you know, wanting to talk to him or get his autograph. Um So, I mean, thank you Chris from the bottom of my heart, uh both for your generosity with your time, but then also letting me and my crew uh into your house. Uh you know, we could have just done this over Zoom, but we got to uh sit in his patio and bring in all kinds of fun camera and sound equipment and in invade him on one of his few days off. So it really means a bunch to me, Chris. Uh So thank you so, so much for your time again and your generosity.
And uh for those of you who want to know more about Chris, you know, since this was his follow up interview, we talked, uh we went a few different directions. Uh but I did interview Chris on episode 24 of The Other Side of the Bell. So if you want to go through more of the uh biographical timeline of Chris that I typically do in these interviews, you can listen to that. We'll have the link in the description and the show notes for this episode. Uh But you can also, if you're on a Spotify or on Apple podcast, just scroll down to episode 24. And you can hear my full interview with Chris from seven years ago and I should mention uh episode 15 way back in the early days of the podcast, we did a tribute to William Adam, uh Chris's teacher and as we talked about in the podcast, Jerry Hay, Randy Brecker, Charley Davis Larry Hall, I mean, the list goes on and on of the great brass players that study with William Adam. Uh So we did a tribute episode on uh on the other side of the bell episode 15 and we can have the link to that as well. Chris took part in that as well as several other of Mr Adams students. So there a lot of content for you.
Uh Chrisbotti.com, if you want to check out Chris's new album, if you want to see where he's touring, I can't recommend I've seen him live several times and it is a party. It is an awesome display of musicianship and different kinds of music things. You wouldn't even expect to come out of a Chris Botti concert. So I highly recommend seeing him live and the way he travels. Uh most likely he's coming to your neck of the woods sometime soon. Uh And of course, the Botti at sea cruise, uh like he said, 2024 is sold out, but it looks like he signed up for a few more years. So maybe I'll see you on one of those cruises if I can get my uh get my tickets early enough. So all of that is available at Chrisbotti.com.
So before we wrap up, I just want to give a special shout out to all of the folks on the Bill Adam Facebook Group moderated by Dr. Karl Sievers, who was also a guest on this, our podcast. Uh But I asked them for questions uh to help with this interview to get some input from them. And I wanted just a quick shout out to all the folks on there, Matthew James, Jerry Alistair and Greg who all submitted questions. And I was able to sneak some of those in uh to the podcast and maybe we'll do a live Q and aAfollow up with Chris at some point here and you can submit your questions live while we're streaming. So, uh we'll see if we can arrange that. And uh certainly follow us on the social medias, tiktok, youtube, Twitter, which is now X uh Facebook and sign up for our email list through our website. So you don't miss any of these podcasts or live stream Q and A's, that's it for this episode of the other side of Bell. Thank you for listening. And now watching on youtube and we'll see you pretty soon for another great guest. Until next time, let's go out and make some music.