Dontae Winslow – Trumpet Interview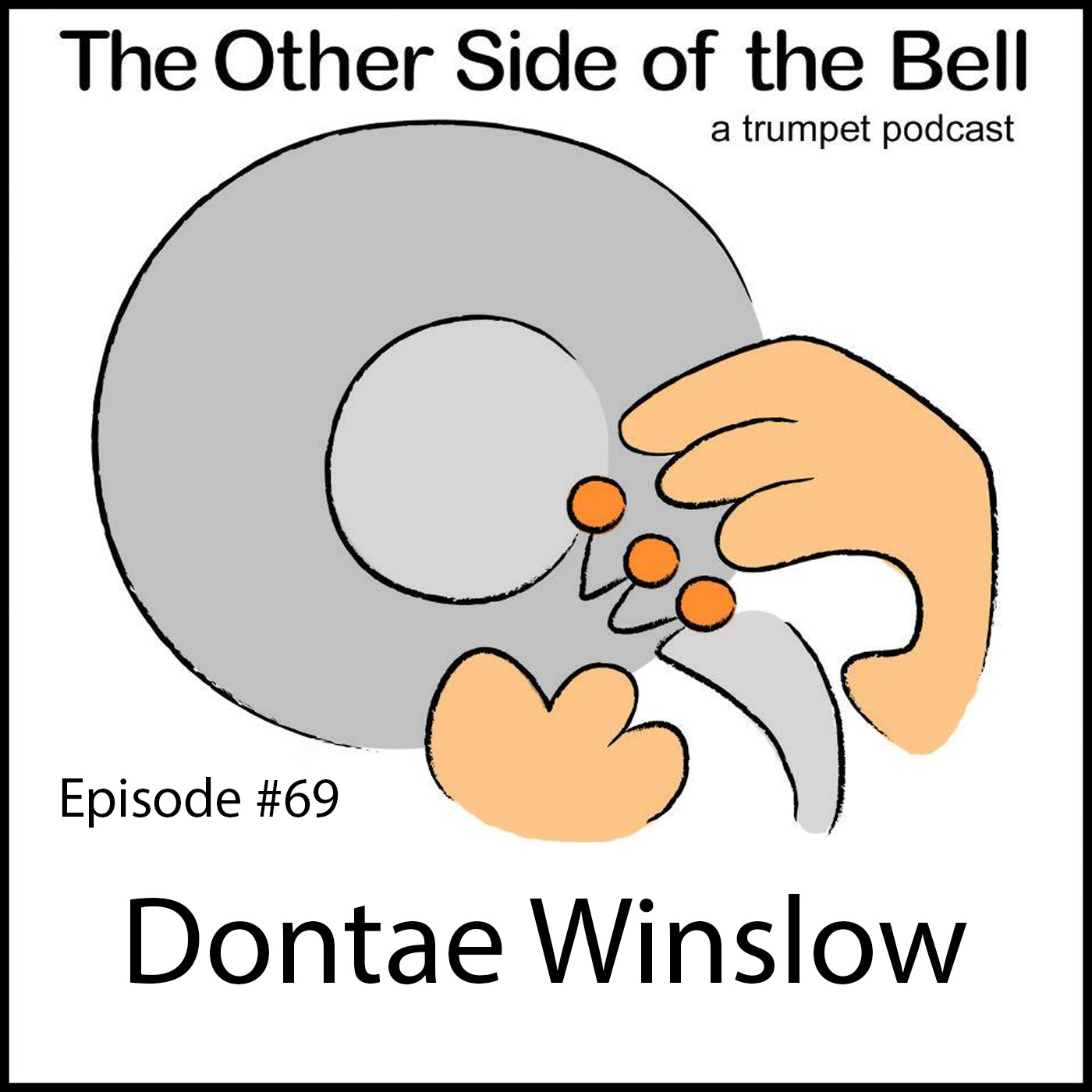 Welcome to the show notes for Episode #69 of The Other Side of the Bell – A Trumpet Podcast. This episode features trumpeter Dontae Winslow.
Listen to or download the episode below:
Podcast: Play in new window | Download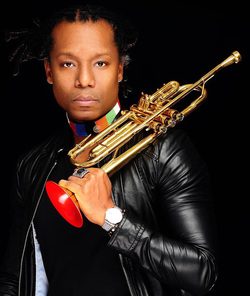 Dontae Winslow is one of the most versatile in-demand trumpeter/arranger/composers on the Hollywood music scene. His trumpet/arranging/songwriting can be heard on classics such as Kanye West's grammy winning "We Major" from the multi-platinum Late Registration, Jayz's "I Made it", Dr. Dre's Compton Movie Soundtrack (where Dontae composed the iconic fanfare intro and played solos throughout the album). The Final track "Talking to My Diary" uses a 2minute jazz trumpet solo after Dre's verse over a hiphop song which was Dontae's 1st take. He also plays on Kendrick Lamar's "County Building Blues", Snoop Dog's Ego Trippin, Aloe Blacc's smash song "I'm the Man", and Beyonce's Huge Ego among countless other hits. He has toured in the band of Justin Timberlake since 2013 where he performs in the Netflix Movie "JT & The Tennessee Kids. Dontae has performed in front of millions in the 2020 Experience World tour, Legends of Summer World Tour, and Man of The Woods World Tour. He has alo been on the bands of Lady Antebellum (You Look Good), D'angelo (Vodoo), Kamasi Washington, Raphael Saadiq, Lauryn Hill, Jill Scott, and most recently has been the arranger, orchestrator, and Music director for Queen Latifah.
Dontae has played trumpet on countless TV shows such as the Soul Train Awards, BET Awards, HipHop Awards, MTV Awards, BET HONORS, the NAACP Image Awards, Jimmy Kimmel, Jimmy Fallon, SNL, Trumpet Awards, McDonalds 365 Awards, American Idol, The Voice, The Masked Singer, and The Four. His first scoring stage session was for "Mall of America" by composer Jacob Yoffee for the largest inside mall ride in America with Trumpeters Jon Lewis and Tom Hooten. His jazz trumpet playing can be heard on the new release by Kamasi Washington called "Heaven and Earth".
Dontae has over 10 artist albums on his indy label Winslowdynasty among them are: Dontae Winslow "Ballads" feat Roy Hargrove, Dontae Winslow "EnterThe Dynasty" feat Questlove, Dennis Chambers, Brian Frasier-Moore, Adam Blackstone, and Chick Corea, Winslowdynasty "The Life Album" feat his wife Mashica, and Change a Life Change The World his award winning kids album.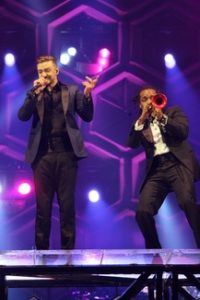 After touring with JT Dontae released a summer party anthem sure to get you moving entitled "Shit Yeah" with him producing the TNkids live band along with analog synths and sing rapping the verse/choruses.
His new work "Trumpet And A Mic", available everywhere, is a short film he directed, orchestrated, and composed music for about his life and overcoming obstacles while turning pain into redemptive power through faith.
Dontae started trumpet at age 10 but due to bad public school teachers had many embouchure changes in middle and high school and a hard start at getting the trumpet to work Good physically for him. He formed his interest in the middle band of a sax player Richard Burns and learned to play by ear. In high school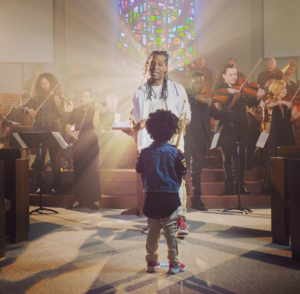 His first private lessons were with Jari Villanueva, then continued trumpet and learned to read music from Carolyn Foulkes in high school. At The New School Dontae studied with Roy Hargrove who would become a life musical mentor until his passing. In college at the Peabody Conservatory of the Johns Hopkins University Dontae studied with Wayne Cameron for undergrad, and Langston Fitzgerald III for graduate in classical trumpet performance. He has always had great jazz lessons from Maryland based jazz giant trumpeter Tom Williams and has been mentored by Jon Faddis and Wallace Roney. As a recipient of the Thelonious Monk Institute of Jazz Fellowship at USC Dontae studied jazz trumpet, composition, and film scoring with jazz legend trumpeter/composer Terence Blanchard. Also at USC he studied with jazz legend Bobby Shew, string arranger Jeremy Lubbock, Studio trumpet legend Gary Grant, and Gospel Composer Margaret Douroux.
Dontae has composed music for the feature films : "In The Hive" by director Robert Townsend starring Oscar Award winner Michael Clarke Duncan, and Loretta Divine, The New Edition Story for BET by director Chris Robinson. In 2019 Esquire magazine recently voted "Baltimore Rising " HBO's documentary about the riots in Baltimore, directed by Sonja Sohn, one of the Top Documentaries of All-Time. "Baltimore Rising" explored the tragic death of Freddie Gray by Police and a broken justice system. The film used Dontae's talent as film composer, Trailer composer, and End Song title songwriter and Music Producer which is rare for this industry.
Dontae arranged string orchestra for Eminem's Coachella performance with Dr.Dre in 2017. He also arranged live string arrangements for Eminem's MTV EURO's premiere of "Walk On Water" as well as his SNL performance of Walk on Water, Stan, and Love The Way You Lie.
Dontae arranged "Suit N Tie" with full 300 piece marching band for Justin Timberlake in his Superbowl 52 performance. In an epic performance in 2019 Dontae arranged strings for Mary J. Blige's lifetime achievement award on BET. He has been awarded the John Lennon International songwriting contest for winner Children's music. Recently Dontae composed the music for Michelle Obama's "Note To Self" on CBS by Gayle King.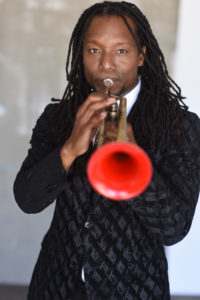 Dontae has produced songs for platinum artists Snoop, Dr. Dre, Avant, Mary Mary, and Keyshia Cole. As an arranger he has orchestrated/arranged and played trumpet in the show for Queen Latifah's debut concert with the Boston Pops, and recently their 2019 Fourth of July Summer Holiday Concert series. Dontae is influenced by all styles of music especially European classical composers Shostakovich, Mahler, Stravinsky, Rachmaninoff and Chopin. In his playing you can hear his love for the soul and swag of Lee Morgan, the harmony of Woody Shaw, the pathos of Roy Hargrove, and the elegance of Miles Davis.
He designed his own custom trumpet the "Winslowdynasty Model" DWA6 model by Adams Instruments with Miel Adams and was featured on their international magazine cover.
In addition Dontae is a jazz improvisation, music production, film composing and performance clinician for such esteemed institutions as The Berklee School of Music, The Herbie Hancock Institute of Jazz, The Los Angeles Unified School District, and The Peabody Conservatory of The Johns Hopkins University.
Dontae is family man who has been married to his wife, artist/songwriter/singer Mashica Winslow for 20 blissful Years and they have two amazing kids.