LA Trumpet Ensemble Interview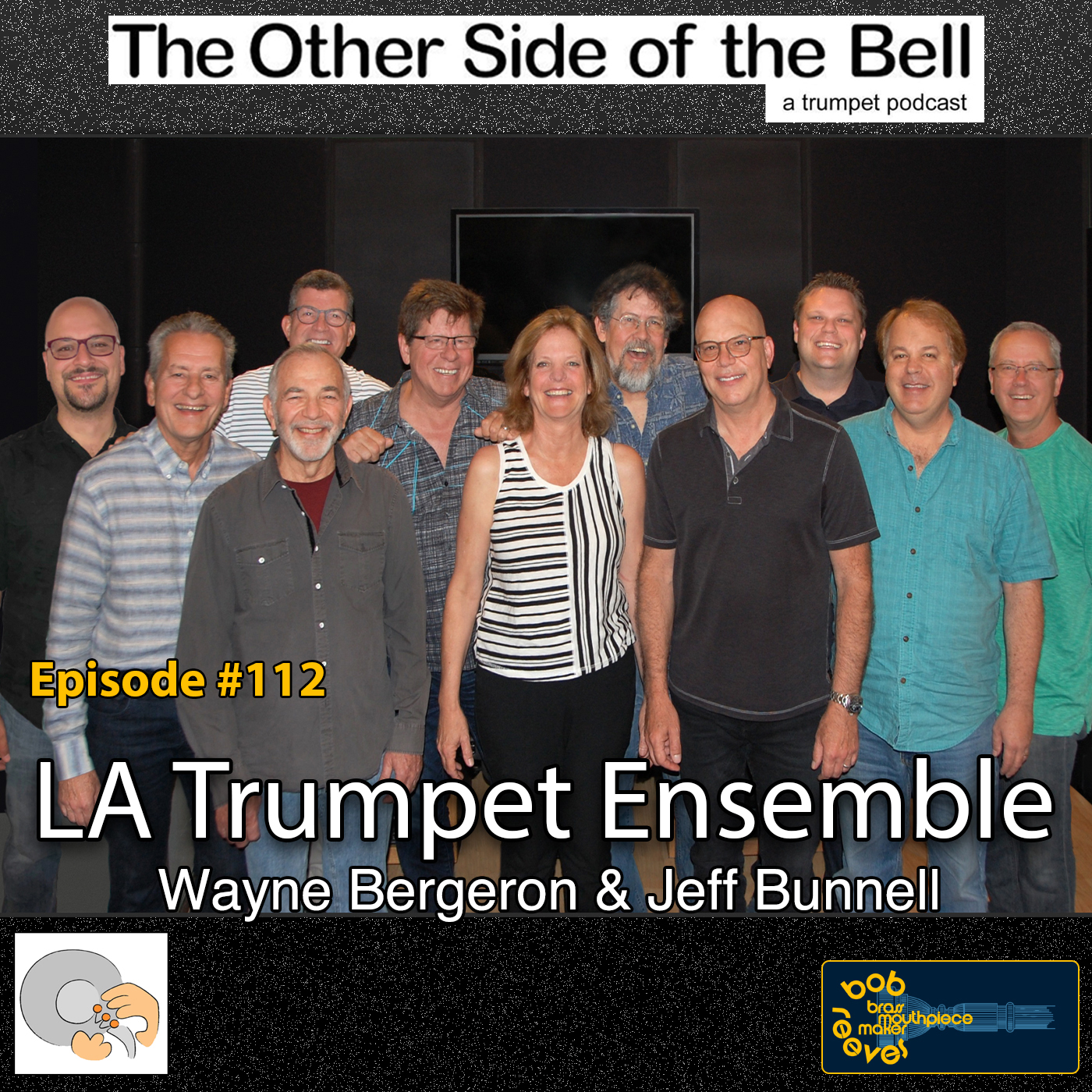 Welcome to the show notes for Episode #112 of The Other Side of the Bell – A Trumpet Podcast. This episode features trumpeters Wayne Bergeron and Jeff Bunnell talking about their new album "Homage" by the Los Angeles Trumpet Ensemble.
Listen to or download the episode below:
Podcast: Play in new window | Download
About the LA Trumpet Ensemble, Wayne Bergeron and Jeff Bunnell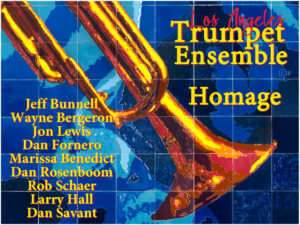 "Homage" Liner Notes –
The recording scene in Los Angeles has a long history of great and highly versatile trumpet playing. For the most part, though, these trumpet players rarely get a chance to be featured. In 1957, Tutti Camarata arranged and produced a record called Tutti's Trumpets that featured some of the top session trumpet players in Los Angeles at that time. That was over 60 years ago. Wayne Bergeron and I started talking about doing another recording that would feature some of the current session trumpet players here in Los Angeles. Wayne suggested recording a trumpet ensemble CD. I loved the idea and thought a choir of trumpets would work well. With that, the Los Angeles Trumpet Ensemble came into being.
In choosing the music I arranged for this CD, I wanted to pay tribute to some of the film composers who are part of the Los Angeles recording scene (and who write so well for the trumpet), and also pay tribute to some of the great trumpet players of the past and present.
Thanks to:
All the members of the Los Angeles Trumpet Ensemble, whose world class trumpet playing breathed life into the black dots on the pages that I gave them, and elevated the music on this CD to such a high level. Bravo!
Andrew, Abe, Chad and Chris for their stellar playing on Roof Garden.
Dan Savant for contributing his seasoned producing skills to this CD, and for all the encouragement he has given me over the years.
Michael Aarvold for his great engineering, mixing and mastering work.
Joe Meyer for his help with the CD design concepts.
A big thanks to Jerry Hey for writing the perfect closer to this CD and for lending his exceptional producing talents to that session. A huge thanks to Wayne Bergeron, whose outstanding playing, engineering and producing chops were invaluable to this project! A very special thanks to my beautiful wife Becky for her encouragement and support of this project, and for putting up with the rehearsals in our living room.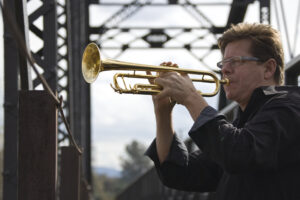 Wayne Bergeron is enjoying a career as one of the most sought-after musicians in the world. Studio sessions, film dates, international touring, jazz concerts, guest appearances, and clinics keep him busy not only in his hometown of Los Angeles but worldwide.
Born in Hartford, Connecticut in 1958, Bergeron came to California at age one. He originally started on French horn but switched to trumpet in seventh grade where he found a natural upper register ability. Bergeron credits his junior high and high school teachers, Ron Savitt and Bob Smith, for molding his talent into practical working skills.
Bergeron first caught the ear of many when he landed the lead trumpet chair with Maynard Ferguson's band in 1986. Bergeron can be heard on Maynard's recordings of Body and Soul, Big Bop Nouveau, Brass Attitude, and The One and Only Maynard Ferguson.  Bergeron demonstrates daily why Maynard remarked, "Wayne is the most musical lead trumpet player I've had on my band."
As a sideman, Bergeron's list of recording credits reads like a "who's who" in contemporary jazz and pop, running the stylistic gamut from Ray Charles to Green Day. Other names include Katy Perry, Beyoncé, Barbra Streisand, Michael Buble, Indina Menzel, Leslie Oden Jr., Herb Alpert, The Jonas Brothers, Burt Bacharach, The Dirty Loops, Seth MacFarlane, Natalie Cole, Celine Dion, Seal, Diana Krall, Tito Puente, Christina Aguilera, Dianne Reeves, Michael Bolton, Earth Wind & Fire, The Pussy Cat Dolls, My Chemical Romance, The Mars Volta, Chicago, Rosemary Cloony, Diane Schuur, Barry Manilow, Lee Ann Womack, Lou Rawls, Eric Marienthal, Kenny G., and David Benoit.
Bergeron has worked on over 500 TV & motion picture soundtracks. A partial list of film credits includes Red Notice, Turning Red, Soul, Bob's Burgers, Ford vs. Ferrari, Toy Story 4, Frozen 1 & 2, The Lion King (2019), The Secret Life of Pets, Wreck it Ralph 2, Crazy Rich Asians, Sing 1&2, Moana, Frozen 1 & 2, Get On Up, Toy Story 3, Monsters University, High School Musical 3, Get Smart, Superman Returns, The Simpson's Movie, Dreamgirls, Hairspray, Mission Impossible 3, Ice Age 2, Spiderman 1 & 2, Team America and South Park.
Bergeron's featured trumpet solos can be heard on the motion pictures West Side Story (2021 Steven Spielberg), La La Land, Sing, The Incredibles 1 & 2, Rocky Balboa, The Secret Life of Pets 2, Rough Night, Jazzman's Blues, Vacation Friends, Ted 2, Minions, Minions 2:The Rise of Gru, Spies in Disguise, Jersey Boys, The Green Hornet, The Interview, Despicable Me 1, 2 & 3, Duplicity, Princess & the Frog, The Perfect Game,, Hey Arnold (the movie), The Rat Pack, Child Star, Aladdin King of Thieves and High Crimes and  many others.
Numerous TV credits include Academy Awards, Golden Globe Awards, SAG Awards, NBC, ESPN & TNT sports themes, American Idol (2001-02), Emmy Awards, Grammy Awards, Animaniacs Reboot, Family Guy, American Dad, Simpson's, Wonderful World of Mickey Mouse, The Cleveland Show, Green Eggs and Ham,  Jeopardy, America's Funniest Home Videos, Will and Grace, Phineas & Ferb, Emperor's New School, Mouse Works, Have a Laugh, House of Mouse, King of the Hill, Futurama, Buzz Lightyear, Hercules, and Hey Arnold.
Bergeron's greatest love is playing lead in big bands. He has recorded and played with some of Los Angeles' most respected bands including Gordon Goodwin, Arturo Sandoval, Pat Williams, Sammy Nestico, Jack Sheldon, Chris Walden, Tom Kubis, John La Barbara, Bob Florence, Joey Sellers, Ray Anthony, Bill Watrous, Bob Curnow, and Quincy Jones.
After being behind the scene for so many years, Bergeron stepped out on his own with his first solo effort, You Call This a Living?  This debut project earned him a Grammy nomination in 2004 for Best Large Jazz Ensemble, as well as rave reviews from fans and press worldwide. Bergeron's second CD, Plays Well With Others, released on the Concord Jazz label in 2007, was met with the same acclaim. Bergeron's most current (and personal favorite) CD, Full Circle, was released in January of 2016.
Bergeron performs various events for the Hollywood Bowl summer season. He has done guest appearances with the L.A. Philharmonic, The New York Philharmonic, Cleveland Orchestra, Dallas Symphony, Taiwan Symphony, and Tokyo Philharmonic.
Bergeron is a National Artist for the Yamaha Corporation of America and is co-designer of the YTR-8335LA trumpet and YFH-8315G Flugelhorn. Bergeron also designed a series of trumpet mouthpieces with Gary Radtke of GR Technologies that are available through Bergeron's website.
Bergeron was mentored by legends Uan Rasey, Bobby Shew, Warren Luening, Gary Grant, Rick Baptist, and George Graham. Bergeron hopes to inspire a new generation of young players and enjoys his work as a clinician and educator. "Nothing makes me feel more accomplished than hearing a young musician say that I inspired them or had a positive influence on their life. For me, that's the real payday." Bergeron is currently on faculty at California State University Northridge.
Perhaps Grammy winning composer and bandleader, Gordon Goodwin said it best, "Wayne is a once in a lifetime lead trumpet player."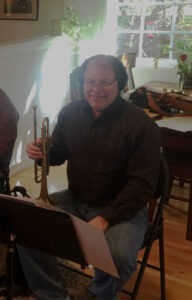 Trumpeter Jeff Bunnell has enjoyed a successful career in many musically diverse settings. He is an active member of the Los Angeles freelance performing and recording community, and has been for over four decades.
The many artists Jeff has worked and recorded with include Mel Torme, Ray Charles, Bob Dylan, Natalie Cole, Michel Legrand, Johnny Mathis, Tony Bennett, Robbie Williams, Paul McCartney, Seth MacFarlane, Rosemary Clooney, Paul Anka, Lou Rawls, Barry Manilow, Dianna Krall, Frank Sinatra Jr., David Sanborn, Diane Schuur, Brian Wilson, Tom Harrell, Steve Lawrence, Maroon 5, Michael Feinstein, Debby Boone, Andy Williams, Patti Austin, Brian Setzer, Jack Sheldon, Steve Allen, Marilyn McCoo, Engelbert Humperdink and Shirley Bassey.
Jeff has toured with Ray Charles, Horace Silver and Poncho Sanchez. He has performed with many of the top big bands in Los Angeles including Tom Kubis, Bill Watrous, Alf Clausen, Johnny Mandel, Bill Holman, Arturo Sandoval, Gordon Goodwin's Phat Band, Les Hooper, Pete Christlieb, Pat Williams, Wayne Bergeron, Steve Spiegl, Carl Saunders and Bernie Dresel. He has recorded with many of these big bands including Ray Charles, Tom Kubis, Bill Watrous, Les Hooper, Pete Christlieb, Jack Sheldon, Brian Setzer, Wayne Bergeron, Steve Spiegl and Bernie Dresel. Jeff played the lead trumpet chair with the Carl Saunders Big Band, the Pete Christlieb Tall and Smail Band, and the Steve Spiegl Big Band. Currently Jeff plays one of the solo chairs with both The Tom Kubis Big Band and Bernie Dresel's BBB.
Jeff has worked with many of the orchestras in Southern California including The Hollywood Symphony Orchestra, The Hollywood Bowl Orchestra, The Long Beach Symphony, The New West Symphony, The Pacific Symphony and The Pasadena Pops Orchestra.
As a session player Jeff has played on hundreds of feature film and television soundtracks. His film credits of note include "Star Trek Beyond", "Jurassic World", "The Incredibles", UP (Oscar winner for Best Soundtrack), and "O.J. Simpson: Made in America" – where Jeff is a featured soloist throughout the film (Oscar winner for Best Documentary Feature). His television credits include "Pennyworth", "The Simpsons", "Family Guy", "Why Women Kill", "American Dad", "Parks and Recreation", "Alias", and "The Clone Wars" animated series. He has also played on hundreds of television and radio commercials, as well as the Academy Awards and the SAG Awards.
As a musical theater pit musician, Jeff has played on more than 60 Broadway shows including "West Side Story", "Phantom Of The Opera", "Dream Girls", "Into the Woods", "Sophisticated Ladies", "Jesus Christ Superstar" and "Titanic".
He has studied trumpet privately with Joe Alessi Sr., Boyde Hood, Bobby Shew, Claude Gordon and Uan Rasey. Jeff is currently a faculty trumpet and jazz instructor at The Master's University.
Jeff is also a Bach Artist & Clinician.
In addition to playing the trumpet, Jeff also works as an arranger, orchestrator, and conductor. He has orchestrated for film and television, as well as other areas of music such as Broadway Shows, cruise ship music and theme park music.
His original big band charts can be found in the books of Arturo Sandoval, Bill Watrous, Jack Sheldon, Ron Jones, Emil Richards, Steve Spiegl and Bernie Dresel. He has published three transcribed jazz trumpet solo books through Aebersold Jazz.
LA Trumpet Ensemble Links
Other Links Mentioned in this Episode
Join us at Dillon Music, November 9-11 for valve alignments and mouthpiece consultations. Email sales@dillonmusic to schedule an appointment!