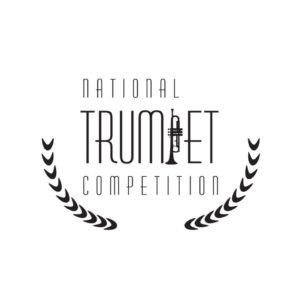 We are excited to travel to the University of Delaware for this year's National Trumpet Competition! The exhibit halls at the competition will be open on April 1st and April 2nd. Visit us to try a huge selection of trumpet mouthpieces, get a Reeves valve alignment, test Van Laar and C. Davis trumpets, or pick up a cool accessory like our mouthpiece pouches & sleeves. This year we are featuring Rejano Mutes practice mutes, Clary Woodmutes and C. Davis mutes!
Be sure to swing by the Bob Reeves Brass booth to meet trumpet specialists Brett Kendall & John Snell and get a private consultation!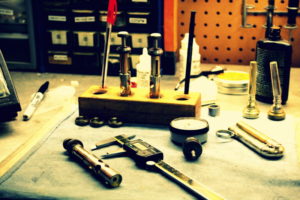 Have you always wanted a Bob Reeves Patented Valve Alignment but don't want to ship your trumpet to our shop? You're in luck because we'll be doing alignments at the National Trumpet Competition. Just drop your horn off at our booth and you can pick it up the next day! A few same day appointments are available.
If you're not sure you need an alignment, you can bring your trumpet by our booth and we will be happy to measure it to show you how far out of alignment it is, free of charge.
We will be having a valve alignment special at the show, discounting from our normal price by $25! We are only doing a limited number of alignments and reservations are available on a first-come, first-served basis.
Book Your Valve Alignment Early and Save $50!
If you book your alignment and prepay for it now, you will save an additional $25 for a total savings of $50. Just click the button below and checkout using our secure online shopping cart. If for some reason you will be unable to be at the NTC, the credit from your pre-order can be used for any future work at our shop.
Mouthpieces, mouthpieces, and more mouthpieces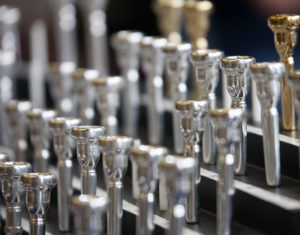 If you've never visited our booth at a trade show before, you are in for a real treat. We bring everything but the kitchen sink. Here's a partial list of stuff we will have for you to try (and buy!) at the show:
175+ Bob Reeves Mouthpieces, including complete lines of 692s, 2, 69, 692 series mouthpieces and popular 692sL and 's' series mouthpieces
Dan Rosenboom "BOOM" Artist Model Mouthpiece
Bobby Burns Jr. EWF & Classical Artist Model Mouthpieces
35 Dynamic Mass Mouthpieces covering the complete line of rims and cups
8 High Efficiency Mouthpieces
13 Vintage Purviance Mouthpieces, including all standard models
Our new full selection of Classical Series Mouthpieces
A complete line of C2J Mouthpieces
35+ Flugelhorn mouthpieces, including all 4 cups (F, DF, FE, HF) and all shank types (Standard, Bach, French)
Piccolo Trumpet Mouthpiece including both cornet and trumpet shanks
Cornet Mouthpieces
A selection of mouthpieces converted for Reeves Sleeves and the full line of sleeves
Popular Custom Trumpet Mouthpieces: CF, JH, & Zinger
Rejano Mutes Practice Mutes for Trumpet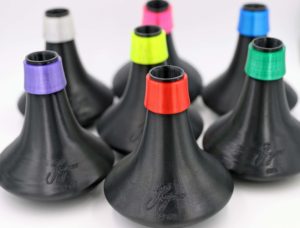 Test out the full line of Rejano Mutes practice mutes at our booth in all of the popular colors. Rejano Mutes was born with the need to solve the problems in the already existing practice mutes for brass instruments in the market, such a heavy weight, unstable pitch, excessive resistance or a not-quiet-enough sound. Their motivation is to bring to brass players all over the world, through innovative 3D printed designs, a unique experience that offers quietness without having to sacrifice a good feeling while playing on a trumpet practice mute.
Other Fun Stuff
Besides the vast mouthpiece selection, we will have the following accessories and products on display:
Bob Reeves Cylinder Reinforcers
Bob Reeves Receiver Rings
Leadpipe Swabs
Double and Quad Leather Mouthpiece Pouches
Howie Shear's Books and CDs
Adapters: A-Piccolo Adapter, Cornet-Trumpet Adapter, Flugelhorn-Trumpet Adapter
Van Laar Trumpets and Flugelhorns
We will have an assortment of Van Laar Trumpets available for purchase at the show.
Charley Davis Trumpets & Mutes
Charley Davis has been one of the top-call studio players in Los Angeles for decades and developed the successful Charles Davis line of trumpet mutes. After years of trying to find a horn that played like his he decided that perhaps he should just make one. We will have several models on hand for you to try out and purchase.
Clary Woodmutes
We will have a selection of Clary Woodmutes for trumpet, including their straight mute, cup mute, and popular practice mute.