Phil Smith – Trumpet Interview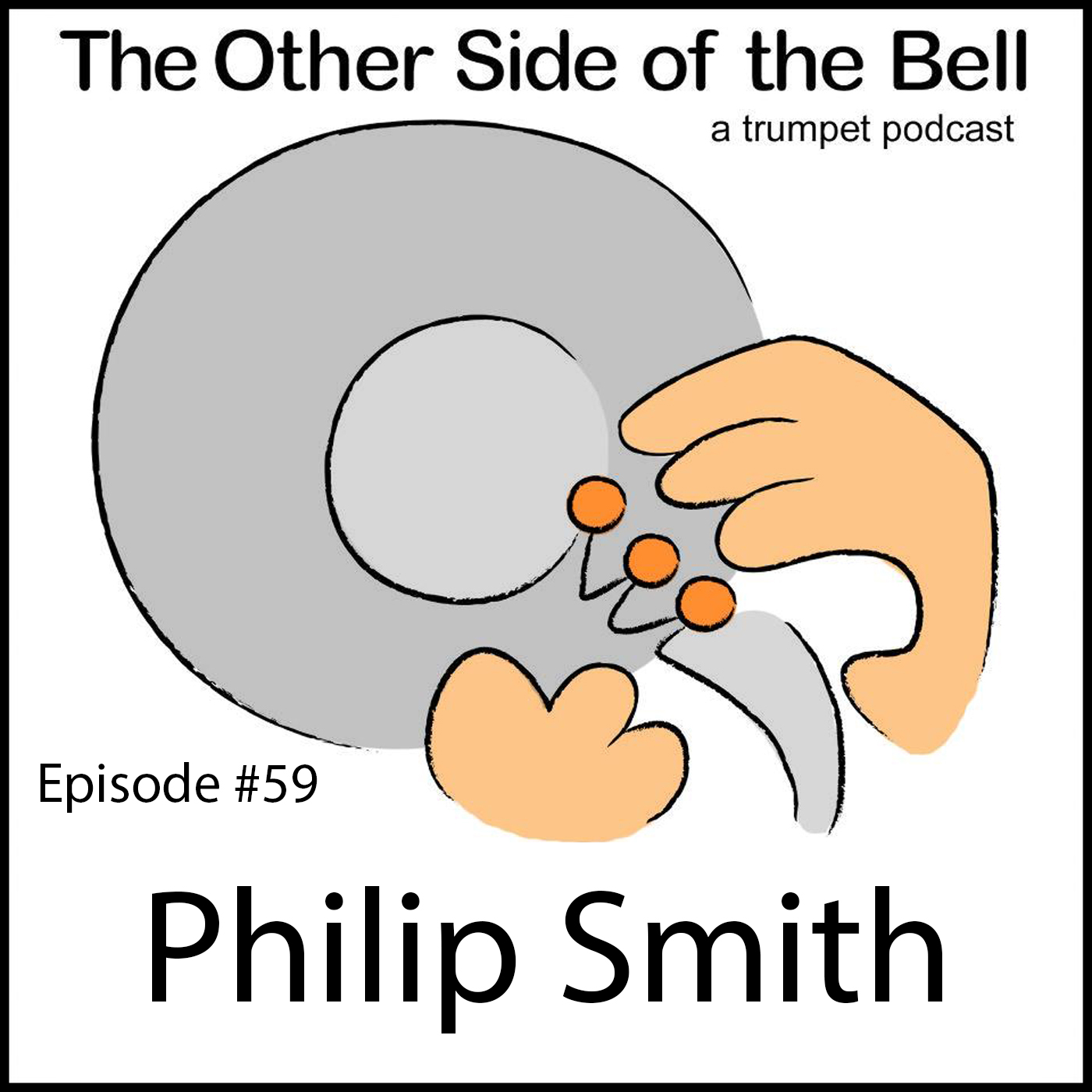 Welcome to the show notes for Episode #59 of The Other Side of the Bell – A Trumpet Podcast. This episode features trumpeter Philip Smith.
Listen to or download the episode below:
Podcast: Play in new window | Download
Philip Smith joined the New York Philharmonic as Co-Principal Trumpet in October 1978, and assumed the position of Principal Trumpet in June 1988. His father, Derek Smith, a renowned English cornet soloist, provided his early training. He is a graduate of The Juilliard School, having studied with Edward Treutel and William Vacchiano, former Principal Trumpet of the New York Philharmonic. In January 1975, while still at Juilliard, Sir Georg Solti appointed Mr. Smith to the Chicago Symphony Orchestra.
Philip Smith joined the Hugh Hodgson School of Music at the University of Georgia as the William F. and Pamela P. Prokasy Professor in the Arts in August 2014. In addition to teaching his trumpet studio, he is the Bandmaster of the UGA British Brass Band, member of the faculty Georgia Brass Quintet, and coach of the Bulldog Brass Society. This new position follows his retirement from the New York Philharmonic after 36 years of service as Principal Trumpet.
Mr. Smith has appeared regularly as soloist, recitalist, chamber orchestra performer, and clinician. He has been featured as a soloist with the Philharmonic performing with conductors Zubin Mehta, Kurt Masur, Erich Leinsdorf, Leonard Bernstein, Neeme Jarvi, Lorin Maazel, Alan Gilbert and Bramwell Tovey. Repertoire highlights have included the world premiere of Joseph Turrin's Trumpet Concerto with the New York Philharmonic (1989) and its subsequent European premiere with the Leipzig Gewandhaus Orchestra (1994). Additional New York Philharmonic performances have included the U.S. premiere of Jacques Hetu's Trumpet Concerto (1992), the world premiere of Lowell Liebermann's Concerto (2000), and the world premiere of Siegfried Matthus's Double Concerto for Trumpet, Trombone, and Orchestra (2003). He has also been a guest soloist with the Mostly Mozart Festival Orchestra, and the symphonies of Edmonton, Newfoundland, South Dakota, Sioux City, Cedar Rapids (Orchestra Iowa), Columbus (Indiana), Pensacola (Florida), Hartford (Connecticut), and Beaumont (Texas). He has appeared as guest Principal Trumpet with the Orchestre de Paris, conducted by Daniel Barenboim, performing Mahler's Symphony #5.

Mr. Smith has also appeared with many symphonic wind ensembles, including the US "President's Own" Marine Band, the West Point Academy Band, the US Army TRADOC Band, the US Coast Guard Band, La Philharmonie des Vents des Quebec and many major university wind ensembles. He appeared at The College Band Directors National Association Convention in Austin, Texas, for the world premiere of Turrin's Chronicles (1999) with the University of New Mexico Wind Ensemble. A subsequent recording of Chronicles was produced which included the world premiere of Stephen Gryc's Evensong (2000) and Turrin's Fandango (2000). Alfred Cohen's "curls of motion" was premiered in 2008 with the Columbus State University Wind Ensemble. Aaron Kernis' a Voice, a Messenger was premiered in 2013 with the University of Illinois Wind Ensemble.
An avid brass band enthusiast, Mr. Smith has been guest soloist with the United States Army Brass Band, and the contesting bands of Goteborg Brass (Sweden), Black Dyke Mills and Rigid Containers Band (Britain), Hannaford Street Silver Band and Intrada Brass (Canada), as well as Columbus Brass Band, Triangle Brass Band, and Imperial Brass (USA). He has soloed with all of the Salvation Army Staff Bands worldwide including the International Staff Band, New York, Chicago, Amsterdam, Melbourne, German and Japan. He appeared as featured soloist at the 1996 British Open Brass Band Championships in Manchester, England.
Mr. Smith has been on the faculty of The Juilliard School and Manhattan School of Music, and has appeared as recitalist and clinician at the Caramoor International Music Festival, Grand Teton Music Festival, Swiss Brass Week, Breman (Germany) Trumpet Days, Oslo (Norway) Trumpet Week, Harmony Ridge (Vermont) Festival, Scotia Festival of Music and numerous International Trumpet Guild conferences.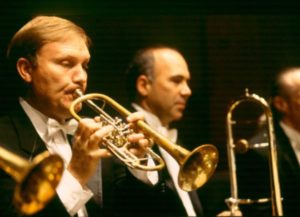 In 2005, Mr. Smith was made an Honorary Member of the Royal Academy of Music (Hon RAM). In 2006, Mr. Smith was given the International Trumpet Guild Honorary Award.As a member of the Principal Brass Quintet, Mr. Smith has toured Japan four times, as well as Brazil and Germany. He has also performed and recorded with the Canadian Brass, Empire Brass, Chamber Music Society of Lincoln Center, Bargemusic, and New York Virtuosi Chamber Symphony. His solo recordings include Contest Solos produced by the International Trumpet Guild; Fandango, featuring New York Philharmonic Principal Trombonist Joseph Alessi and the University of New Mexico Wind Symphony (Summit); My Song of Songs with the New York Staff Band of The Salvation Army (Triumphonic); Copland's Quiet City (Deutsche Grammophone); New York Legends (CALA); Orchestral Excerpts for Trumpet (Summit); Ellen Taaffe Zwilich's Concerto for Trumpet and Five Instruments (New World); Bach's Brandenburg Concerto No. 2 (Koch); Walton's Facade (Arabesque); and The Trump Shall Resound and Repeat the Sounding Joy(Heritage).
Mr. Smith has collaborated on a series of projects with Curnow Music Press (Hal Leonard), publishing music arrangements with demonstration CDs. These include Great Hymns, More Great Hymns, and Great Christmas Carols for Trumpet and Piano. Two trumpet study books with demo CD have also been produced, Concert Studies and Advanced Concert Studies. In a similar project published by Michael Davis and Hip-Bone Music, Mr. Smith has recorded the 20 minute WARM UP ROUTINE and a soon to be released etude book. Also in this series is Total Trumpet, featuring a variety of trumpet studies demonstrated by Randy Brecker, Jim Hynes and Philip Smith.
Mr. Smith's film soundtrack credits include: Cobb (1994) music by Elliot Goldenthal; The Hudsucker Proxy (1994) music by Carter Burwell; A Time To Kill (1996) music by Elliot Goldenthal; Punchline (1998) music by Gary Anderson and Charles Gross; Sphere (1998) music by Elliot Goldenthal; The Rookie (2002) music by Carter Burwell; The Ladykillers(2004) music by Carter Burwell; Manchurian Candidate (2004) music by Rachel Portman; Hitch (2005) music by George Fenton and Alan Elliot. His commercial soundtrack credits include: "NBC Sunday Night Football Theme 2006" music by John Williams; "NBC Super Bowl XVIII Theme 2008" music by John Williams and Joel Beckerman (currently heard); "NBC and Golf Channel Tournament Theme 2013" music by Joel Beckerman.